New Facilities
In autumn 2015, the Southmead Hospital Bristol site will be fully complete offering patients the very best in facilities and enabling our staff to deliver exceptional healthcare.
On 28 May 2014, the Brunel building fully opened. It is one of Europe's leading hospitals and is at the centre of the redeveloped Southmead Hospital Bristol site.
The Brunel building is home to almost all of our specialist teams formerly based at Frenchay Hospital and in the old Southmead buildings. These include regional centres such as Neurosurgery, Renal (Kidney), Orthopaedics, Plastics and Adult Burns plus, the Emergency Department (A&E), which is moved from Frenchay.
The Southmead Hospital Bristol site will also include our outstanding maternity department and neonatal intensive care unit (NICU), the brand new Bristol Breast Care Centre, clinical research teams and Severn Pathology.
Healthcare facilities are transforming across the city, including the redeveloped Cossham Hospital in Kingswood, offering an experience our patients should expect and deserve.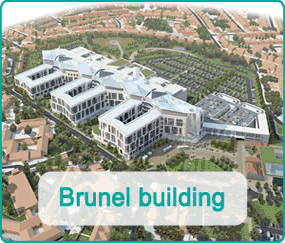 Services at Frenchay
Services remaining at Frenchay Hospital.
Find out more
Tour the Brunel building
How did it all start? Watch the video to find out.