Awards handed out in Nurses Day celebrations
The commitment of North Bristol NHS Trust's nurses has been celebrated in the annual Nursing Director Awards.
Director of Nursing and Quality Sue Jones handed out awards to staff in eight categories during the event, supported by Southmead Hospital Charity, which was held to mark International Nurses Day 2016.
Staff across the Trust nominated their colleagues and peers for their efforts in areas including training, research and innovation and patient experience.
International Nurses Day is held on May 12 every year to coincide with the anniversary of Florence Nightingale's birth.
Commemorations at the Trust included every member of nursing staff receiving a North Bristol NHS Trust pin badge, provided by Southmead Hospital Charity and the GMB, to wear with pride.
The event started with the announcement of the successful applicant for the Practice Development Scholarship – a grant to enable a member of nursing staff to develop an area of work within their team.
Staff nurse Kathleen Jackson, who works in the Neonatal Intensive Care Unit (NICU) at Southmead Hospital, was named as winner of the scholarship, which she will use to improve family-centred developmental care for babies in the unit. She will be using the grant to undertake a course and to visit other units to find out more about the work they do to learn best practice, which can then be shared with other members of staff and families in NICU.
Kathleen, who has worked for the Trust for ten years, said: "This is going to be a great opportunity for me to take time to do some research so that I can them implement guidelines for the unit and teach parents and staff."
Lead Movement Disorder Nurse, Lucy Mooney, was named the winner in the Research and Innovation category for her work in fundraising and helping with the move of the Parkinson's team into the Bristol Brain Centre. She was described as a "fearless leader" in her nomination, which she was thrilled came from a senior nurse in another team within the Brain Centre.
Lucy said: "It was nice that she could see what we have been doing over the last few years, developing the clinical and the research service and with the move from Frenchay and then from temporary accommodation at Southmead into the Brain Centre."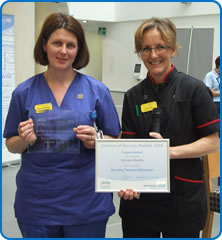 Edwina Burley, Nurse Educator in the Acute Medical Unit (AMU) won in the Nursing Teacher/ Educator category, for her enthusiasm in training nurses on the unit.
Her nomination highlighted Edwina's understanding of the needs of new staff in AMU to ensure they meet the needs of patients on the unit.
Edwina, who has worked on AMU at the Trust for 13 years, said: "I'm a bit overwhelmed and surprised. It's nice to have the hard work of everyone in the unit recognised as I am proud of the hard work we do."
In this category Mandy Freeman was also shortlisted.
Hazel Crudge, who works on 28B, was the winner in the Healthcare Assistant category, having been described by her colleagues as "very caring and kind".
Hazel was credited for her efforts in mentoring new Healthcare Assistants and highlighting information about pressure sores on the ward as part of her role as the Tissue Viability Link Nurse.
She has worked for the Trust for 27 years, having started at Blackberry Hill before moving to Frenchay and then Southmead.
Hazel said: "I was amazed and honoured to receive the award, I work with a fantastic team, Gate 28B who are all brilliant to work with."
The Inspirational Leader award went to Debbie Beynon, Ward Manager of 6B, in recognition of her "tireless efforts" in ensuring the team understands the Trust's values in delivering exceptional care to patients. The nomination said she "inspires those around her to constantly want to improve and innovate".
Debbie, who trained at Frenchay Hospital and has worked at the Trust since qualifying in 1991, said: "I was very shocked but pleased to have won this award of inspirational leader, it's great to have been recognised for this award and feel it is a reflection on my dedication to the Trust, the directorate and my team of staff of which I couldn't have achieved this award without them."
In this category Emergency Department Matron, Juliette Hughes, and  Emma Parslow were also shortlisted.
The Patient Experience Champion award was for a team effort from Renal Nurse Denise King and Trainee Assistant Practitioner Lauren Slater, who were honoured for their efforts in helping a patient attend their son's wedding so they could be part of their special day despite being in hospital.
Denise arranged for Lauren to accompany the patient to the wedding, which was a surprise to their son. As the patient could not stay for the wedding reception, Lauren made a special buffet dinner for them to continue the celebrations.
Denise, who has worked for the Trust for eight years, said: "It was a pleasure to be able to help a patient and make a difference to them and their family. It was a team effort on that day with everyone on that shift helping to make it happen. I would like to acknowledge my colleagues for their hard work."
Suzanne Mallett and Carolyn Barker were also shortlisted in this category.
Kirsty Steventon, Amputee Nurse Specialist at the Bristol Centre for Enablement (BCE), won the Registered Nurse category.
She was described by colleagues as a "well-respected and valued member of the team" with a "rapport with patients that can't be taught". Her nomination said she "works hard to provide a positive environment for the team and patients".
Kirsty, who has worked for the Trust for 16 years and has been in her current role for nearly 5 years, said: "I was very flattered to be nominated for the award today and shocked to win it.
"I am so grateful to my managers Henry Lumley and Helen Harvey who have supported me in my role and allowed me to develop it over the years. I love my role and find it so rewarding to help make a difference to people's lives. We have a great team at the BCE and I am lucky to be part of it."
George Duffield and Wendy Clifford were also shortlisted in this category.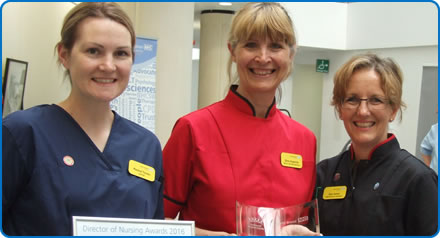 The Midwifery Team award went to Mendip Birth Centre in Southmead Hospital for the efforts of the team in providing an "exceptional service for women" despite the challenge of having moved from the main Central Delivery Suite 18 months ago. The aim of the centre has been to improve the experience for women giving birth in the midwife-led centre and promoting normal birth.
Matron, Gina Augarde said: "Winning the Team of the Year award was a huge surprise, totally unexpected and wonderful.
"Recognising the team's efforts, dedication and passion for the birth centre has been the best present they could have asked for – they are all so proud of their achievements, and this has consolidated everything.
"I am so proud of them, and this has made everything worthwhile. Thank-you so much to the team who decided to make them winners for this award."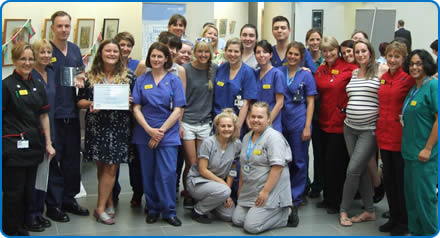 The Nursing Team award was won by the Acute Medical Unit in recognition of the team's hard work in reconfiguring the way the service is delivered. 
The redesign of the unit in July 2015 was carried out to reduce pressure on the Emergency Department and involved the "expertise, time, enthusiasm and motivation" of the nursing team "while continuing to provide a seven-day emergency service", the nomination from AMU Lead Clinician, Dr Kiaran Flanagan said.
She added: "The team continues to strive to deliver high quality safe care under sometimes extreme pressure. They do this with a smile and full commitment."
Ward Sister, Beverley Davies, said: "It was amazing to win this award. We have an absolutely fantastic team who pull together when everything is busy and every single member is totally committed.
"Everyone has worked so hard while so many changes have been brought in and it is nice to get recognition for that hard work."
Matron Annie Langford added: "This is not just about the AMU nursing team, but all the other nursing teams who come in to support us, such as the oncology nurses."
The Medirooms and Acute Oncology were also shortlisted in this category.
Director of Nursing, Sue Jones, said: "I believe it is important to mark Nurses Day and acknowledge Florence Nightingale's birthday by celebrating her role as the founder of modern nursing
"I am very proud to be Director of Nursing for such a committed, kind and compassionate nursing and midwifery workforce, who make a difference to patients each and every day.  Working well together is a strongly held NBT value, and I never cease to be impressed by the team working, leadership at every level and support given in learning environments that are dynamic and put patients first." 
She added: "It was great to be able to celebrate by handing out commemorative badges to all of our nurses, midwives, assistant practitioners and healthcare assistants to mark the day. We concluded with the Director of Nursing Awards, which were thoroughly contested and highlighted some of the achievements over the last year by exceptional individuals who work for the organisation.
"The winners in the Team Award were particularly proud, highlighting the very strongly held value within North Bristol about collaborative team working."
Welcome...
We provide general hospital services and pioneering treatments.
Nurse Recruitment Open Day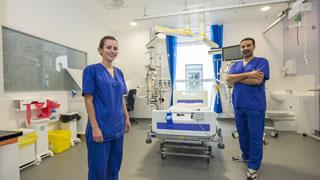 Join us on 6 October 2017, 10am to 2pm, Brunel building Level 1 (Atrium), Brunel building, Southmead Hospital, BS10 5NB.