Brunel building at Southmead Hospital Bristol – six months to go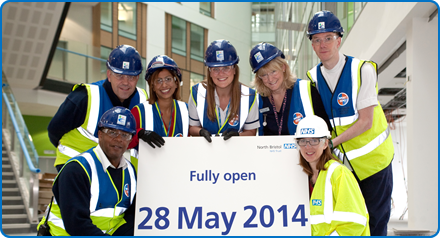 The six-month countdown to the opening of the new Brunel building at Southmead Hospital Bristol has begun.
By May 28 2014 the new hospital at Southmead will be fully open.
North Bristol NHS Trust takes ownership of the building from the developers, Carillion, in March 2014. The first patients will be moved into the state-of-the-art new building in mid-May next year with all other patients, teams and departments moving across during the following two weeks.
Andrea Young, Chief Executive of North Bristol NHS Trust, said: "28 May 2014, marks a new beginning for Southmead Hospital Bristol. For the first time together on one site, our services will be delivering exceptional healthcare for our local residents and for those patients travelling from further afield to visit one our regional centres of excellence, such as neurosurgery.
"In the Brunel building, the region will have one of Europe's leading hospitals and with the redevelopment of the maternity and breast care centre buildings, Southmead Hospital Bristol will truly have first class services treating patients in facilities that reflect a modern healthcare system."
The building work is progressing on time and some of the latest developments include:
The near completion of the Emergency Department
Glass being added to the front entrance and drop off area being paved
The ward areas and the majority of the outpatient departments are now complete
The flooring has been finished in the atrium and the winter gardens are now in place
The near completion of theatres and adjoining medi-rooms.
Some of the main benefits of the Brunel building include:
Greater privacy and dignity for patients with 75 per cent of beds in single rooms with en-suite toilet and shower rooms
25 per cent of beds in four-bed bays
Improved transport links that include bus stops at the main entrance
All medical services and expertise under one roof.
Keep up to date with the latest news and details of our move in May 2014 to the new hospital at www.nbt.nhs.uk/newhospital which is regularly updated with the latest photos and news.
Or follow us on Twitter and Facebook for up to date information.
The Brunel building is now fully open.