Cossham Birth Centre now taking bookings ahead of its opening in Autumn 2012
* Please note the opening date has now changed. Read more here.
Expectant mums can now choose Bristol's first stand-alone midwife-led birth centre for the natural birth of their new baby.
Cossham Birth Centre will open towards the end of September 2012* as the first free-standing birth centre in Bristol offering a safe alternative to home or the traditional hospital based birth setting.
North Bristol NHS Trust is now taking bookings from healthy women with a straightforward pregnancy in Bristol, South Gloucestershire and North Somerset who would like to give birth at Cossham Birth Centre. 
Cossham Birth Centre will also accept bookings from women who live outside of this area, including a small number of GP surgeries in the Chepstow area.
The birth centre is led by an experienced team of NHS midwives and promotes natural childbirth.
Facilities at the birth centre have been designed to provide comfort and support in labour, including:
Four en-suite birth rooms furnished with floor mats, cushions and birthing balls to support you in a natural labour and birth.
A water pool in each birth room, should you choose to relax in labour and/or give birth in water.
Complementary therapies including aromatherapy and massage, TENS (transcutaneous electrical nerve stimulation), Entonox (gas and air), and Pethidine to help with labour.
A double bed in each room, so that your partner can stay with you and your baby after the birth.
Use of a communal kitchen and dining area where light snacks will be available.
The Cossham Birth Centre project grew from the Birth Centre Bristol campaign, started by midwives in 2001 to establish an NHS Birth Centre in the city.
Hundreds of women from across Bristol supported the campaign and a petition was presented to the local PCTs in 2005.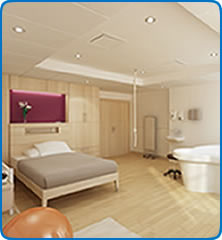 Cossham Birth Centre is part of an important drive to offer women more choice in where and how they can give birth and in promoting natural childbirth for women with uncomplicated pregnancies.
Rachel Fielding, Deputy Director of Midwifery at North Bristol NHS Trust, said: "We are delighted to start to offer Cossham Birth Centre as a option for women additional choice of place of birth.
"The philosophy at Cossham Birth Centre is to support the natural process of childbirth in safe, relaxed and homely surroundings. 
"In addition to the number of women choosing to have their babies at home supported by their community midwives, Cossham Birth Centre will further enhance the midwifery led services on offer in the local community – as well as for women who live in other parts of the region. 
 "We hope that the Birth Centre will also become a 'hub' of community based midwifery care, where women and their partners will be able to access antenatal and postnatal care and educational workshops on differing themes.
"Women who are currently eight weeks pregnant or less and whose baby will be due towards the end of September and beyond and would like to find out more about giving birth at Cossham Birth Centre can do so by speaking to their community midwife or contacting the Midwifery Office at Southmead Hospital."
Cossham Birth Centre will be situated on the redeveloped Cossham Hospital site, located within five miles or 15 minutes of the Obstetric Unit at Southmead Hospital. 
Building work on the birth centre began in June 2010 as part of the wider Cossham Community Hospital redevelopment.
Click here for more information about Cossham Birth Centre.
Date of release: March 12 2012
* Approximate opening date as this release was published.