Double celebration for Southmead Hospital's NGS Macmillan Wellbeing Centre
Service users, health professionals, volunteers, complementary therapists and support groups all came together to enjoy a slice of celebratory cake, sample some complementary therapies and see the range of services on offer as the NGS Macmillan Wellbeing Centre at Southmead Hospital Bristol celebrated its first anniversary.
The centre - a partnership between Macmillan Cancer Support and North Bristol NHS Trust - has reached 2,750 people affected by cancer in its first year, providing specialist information, advice and support.
The celebrations were doubly justified, as the centre has just been awarded with a Macmillan Quality Environment Mark (MQEM), which helps to ensure that people affected by cancer are treated and supported in physical environments of uniformly high quality. The NGS Macmillan Wellbeing Centre achieved a rating of five for excellence overall – a seldom awarded top mark - and was described as a 'home from home'.
Helen France, Macmillan Project Manager at the centre said; "We are thrilled to be celebrating the first birthday of the NGS Macmillan Wellbeing Centre at Southmead Hospital Bristol.
"We have been blown away by the number of people living with and beyond cancer who we have been able to make a positive difference to since we opened our doors a year ago. We receive excellent feedback about the welcome and support people receive when they visit the centre and we know it has really made a difference to the people we see.
"I am thrilled that we are now able to offer complementary therapies at the centre, something which has been an ambition for us since I first became involved with this project.
"And our first year has been rounded off perfectly with the announcement that we had attained the Macmillan Quality Environment Mark, further proof that we really are doing what we are here for.
"Thanks to everyone who has worked so hard to make the centre such a success in its first year, especially our wonderful volunteers."
Support for service users comes in many different forms - it includes one to one advice, information and signposting, Living Well days and courses, and facilitation of support groups.
It also includes Macmillan benefits advice for help with the cost of cancer, counselling and dietitian clinics, carer support, pre-cancer surgery support, breast prosthesis fitting, Look Good Feel Better sessions, physical activity sessions and most recently added to the list, complementary therapies. Not to mention copious amounts of tea – an estimated 5,000 cups, 300 cakes, 200 cupcakes and 250 packets of biscuits consumed have been consumed at the centre in the past 12 months!
When Mike Ford first found out about the NGS Macmillan Wellbeing Centre he wasn't sure it was for him – but six months on he feels he 'couldn't have been more wrong'.
The 82-year-old was first diagnosed with a brain tumour in March 2014 and had his initial treatment in Frenchay Hospital. He had subsequent treatment six months ago and was told about the centre when he was discharged from Southmead Hospital.
Mike explained: "From the moment I entered it was like walking into a family environment, I didn't realise how much they could help you. They have helped me enormously and have given me confidence. But they have also continued to help my family."
Mike attends the centre every week, taking part in the walking group, supported by a volunteer who drives him to Southmead Hospital.
"Helen convinced me to try the walking group and I'm glad she did, I've built up my strength and I've got a sense of how far I can walk," the retired engineer said.
"I have grown to think of the people I meet here on a Wednesday as friends and we can have a chat and a laugh."
Mike, of Mangotsfield, added: "There is a wonderful team here and you couldn't ask for a more friendly and helpful group of people – they get across that you don't have to face cancer alone.
"This place has meant a great deal to me and I don't have enough words to say thank-you."
Laurie Faithfull has been a volunteer at the NGS Macmillan Wellbeing Centre since it opened last year.
The 56-year-old meets and greets people who visit the centre, offers them a cup of tea and is on hand to talk or direct them to relevant information, leaflets or services as he feels is appropriate.
Laurie, of Filton, knows how important it is for men affected by cancer to have somewhere they can go to talk to someone, having been there himself.
"I was a typical bloke, I put up a front and made out that everything was fine and nothing was wrong with me," he said.
"I wish I'd had access to somebody who could talk to me – the psychological aspects of it were more serious than the cancer was for me, in the end.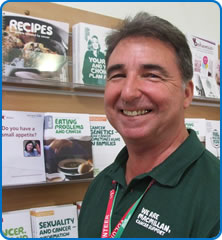 "This wasn't available then, but if I had opened myself up and accessed support I am sure I would have benefited from it."
While Laurie knows it is important not to project his experiences on the people he meets at the Wellbeing Centre, he feels they can help him empathise with the people he meets.
"Some people say they don't want to chat when they first come in, some want to look around, but when we do talk to them they often open up ," he said.
"The main thing we do is listen. We are not clinical so we can be a friend with a listening ear, but if it gets to the point where someone asks us clinical questions then we refer them to the support workers.
"Usually a chat will enable us to understand what someone needs and we can then offer them advice in the form of leaflets and other information, other agencies locally we can signpost them to, or to advise them of the walking group or complementary therapies depending on what is relevant."
The NGS Macmillan Wellbeing Centre was named in recognition of the support the charity receives from the National Garden Scheme.
The centre is situated inside the refurbished Beaufort House on the Southmead Hospital site, and is open from 9.30am to 16.30pm, Monday to Friday.
Anyone with concerns about cancer can simply drop in.
To find out more, please contact Helen France on 0117 414 7051 or email wellbeingcentre@nbt.nhs.uk.