Exceptional Healthcare Awards - Team of the Year
The countdown is on to this year's Exceptional Healthcare Awards,
The awards, supported by Southmead Hospital Charity, celebrate the efforts and achievements of some of our outstanding members of staff and volunteers.
In the lead-up to the awards ceremony on November  11 we will be showcasing the shortlisted nominees in every category.
Today we are highlighting the shortlisted nominees in the Team of the Year category, which recognises a team or ward that provides an exceptional service as a result of team working.
The shortlisted nominees are:
Breast Care Centre, Southmead Hospital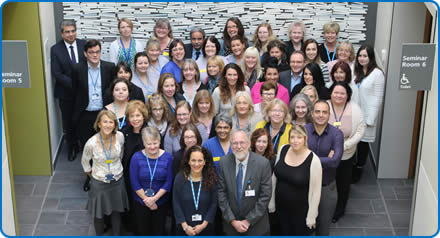 The Bristol Breast Care Team led by Consultant Mike Shere has had a challenging year. The Breast Team has met these challenges with outstanding mutual support and as a result patient care has been maintained at the very highest level.
Mike Shere "We are delighted to be shortlisted as this is a fantastic team. We have had a busy few years with merging services together and moving into our new building.
Director of Breast Screening, Alexandria Valencia "It's a great acknowledgement of the huge amount of effort everyone has made."
MRI Scanning Team, Southmead and Cossham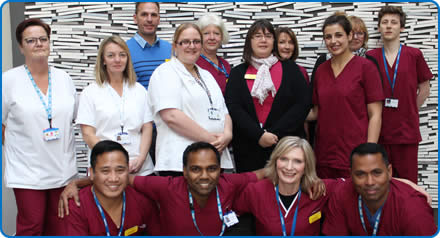 The MRI scanning team promote a  strong and unique culture of excellence, in both patient care and staff professional development, which has been carefully and diligently crafted by the whole team. MRI completes up to 25,000 scans per-year; inpatient, outpatient and emergency services are provided round the clock. Maintaining the level of excellence expected of the department alongside this expansion has been no easy feat!
 The team said: "We work well as a team and are led well.  We're like a big family.  We do our level best to make sure patient care and experience is always our priority.  We are extremely efficient and are delighted to be short listed for an award."
Robotic Surgery Team,
The team has developed one of the largest Robotic Surgery Centres in the UK, helping patients with prostate, bladder, kidney and adrenal cancers. This has required multi-professionals working within a large team including surgeons, theatre staff, anaesthetics, recovery, ward and outpatient staff. These efforts have been sustained for several years to benefit numerous patients by shortening length of stay, less pain and a quicker recovery.
They said: "The Robotics team  which is made up of a wide range of healthcare professionals, have over the last 7 years worked incredibly hard to develop this revolutionary surgery at North Bristol NHS Trust our aim has always been to improve the experience of the patient by reducing operating times and the length of stay in hospital, by achieving this we are now one of the leading robotic centres in the UK and shall continue to strive to make patient experience even better."
"We as a team are proud of what we have achieved over the years and it means a great deal to us for this to be acknowledged by being shortlisted in the Exceptional Healthcare Awards."
Sterile Services
The Sterile Services (SSD) team have had an extremely testing few years but have pulled together, overcome and excelled! SSD are an 86 strong team of primarily Band 2 assistance and technicians, responsible for the decontamination of over 300,000 reusable surgical instruments and sets each year and flexible scopes for Endoscopy and others. The team has developed to a very high standard, and has now moved into the second phase of the Brunel building.
Paul Jenkins said: "We are chuffed to bits to be nominated! We've gone through a huge period of transition over the last few years and we're so pleased to be recognised by the Trust for all our effort. This is the start of a new journey for us!"