The efforts and achievements of some of our outstanding members of staff were celebrated on Friday 10 November with the Exceptional Healthcare Awards 2017.
The annual awards, supported by Southmead Hospital Charity, honoured staff and volunteer teams and individuals for the difference they have made to patients in 11 categories.
The awards, which were hosted with the support of sponsors, recognised staff for providing excellent care, coming up with new innovations, improving patient safety, transforming patient services and experiences and those who go the extra mile.
The 188 nominations were initially whittled down to a shortlist of 30 with the winners in each category announced at the ceremony.
The winners were:
Making a Difference: Tanya Matthews, Neurology Nurse
Tanya has led the Neurology wards through major improvements in acute stroke care, as well as providing training to student nurses.
She said: "I am overwhelmed! I'm very grateful and beyond pleased to have won. I'm truly speechless."
The other shortlisted nominees were Becki Toghill and the Medical Day Care Chemo Suite and Nurse Specialist Jo Watson.
Best Quality Research Innovation: Ashley Blom and the Musculoskeletal Research Unit
Ashley and the team were nominated for their five-year research project, RESTORE which looked at improving the experience of joint replacement patients.
Ashley said: "We are carrying out fantastic research and it's really good to be acknowledged by colleagues in the work environment."
The other shortlisted nominees were Clinical Psychologists Olivia Donnelley and Hazel O'Dowd and Consultant Neurosugeon Nikunj Patel.
Supporting Southmead Award: John Allan, Move Maker
John is one of the original Move Makers who started volunteering at Southmead when the Brunel building opened in May 2014.
He said: "I am very happy. However, I am only one of a team. It's the whole team that makes the difference."
The other shortlisted nominees were Move Makers Graham Daynes and Lynda Ford.
Inspirational Leader: Gareth Wrathall Consultant in Anaesthesia and Intensive Care Medicine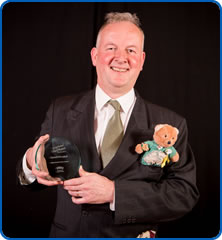 Gareth oversaw the merging of the Intensive Care Units in Frenchay and Southmead, and organised the seamless move of patients into the new unit.
He said: "It is absolutely fantastic to receive this. But the only way you win an inspirational leader award is to have an inspirational team. I'm quite lucky, they did this for me. They are a fantastic team. It feels great and I think it's a reflection of the team rather than me."
The other shortlisted nominees were AMU Clinical Matron Annie Langford and Assistant General Manager (Neurology) Joanna Pawlowska.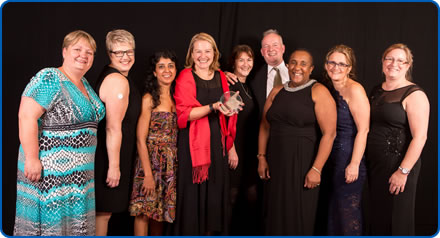 Patient Safety Champion: Kath Jenkins and the Emergency Laparotomy Collaborative Team
The Emergency Laparotomy Collaborative team were nominated for their improvement work for patients undergoing major abdominal surgery, and for working closely with the care of the elderly team in the post-operative period.
Kath said: "We are absolutely delighted to have won the Patient Safety Champion Award. We are a big multi-disciplinary team, and so much hard work has gone in to make it happen. We are proud to have achieved so much."
The other shortlisted nominees were Lucy Kirkham and the Theatre Team and Ward Clark Katie Stevens from the Bath Dialysis Team.
Service Transformation Award: Helen Madden, Motor Neurone Disease Care Coordinator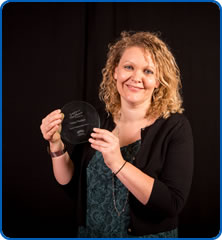 Helen's nomination highlighted how she has transformed the Bristol Motor Neurone Disease service into being one of the best in the UK.
She said: "I am shocked and delighted to have won the award. We are a small service so it's great to be recognised. This is thanks to everyone's work and the wider health community."
The other shortlisted nominees were Sally Cownie and the Alcohol Specialist Nurse Team and Natalie Ferris, Lisa Ford and the Surgical Assessment Team.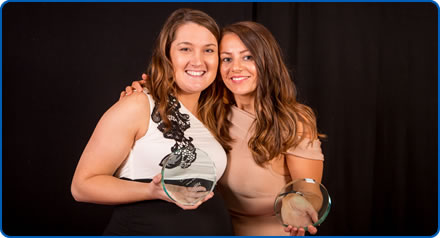 Unsung Hero: Charlotte Brooks and Steph Ellis, BCAS Assistant Practitioners
Charlotte and Steph are part of the multi-disciplinary team that completes assessments for people living in the South West for people with severe communication difficulties that require equipment to interact.
Steph said: "I'm shocked that we won, but it feels good."
Charlotte added: "We are very proud of our team and I think it's nice because a lot of people don't know a lot about what we do."
The other shortlisted nominees were Equipment Supervising Officer Paul Davies and Cancer MDT and Performance Manager Gail Kemp.
Best Improvement in Patient Experience: Annie Thornton, Major Trauma Coordinator
Annie has developed the Quality Trauma Discharge (QTD), providing all major trauma patients with an opportunity to share information relating to injuries, rehabilitation details, and anything else.
She said: "I'm really, really thrilled. It's really, really lovely because we know we have done something great for patients and it is really nice for it to be recognised."
The other shortlisted nominees were Liver Specialist Nurse Katharine Caddick and Emma Wright and the Gate 25a Nursing Team.
Team of the Year: Samuel Wadham and the Cancer Services Team
The Cancer Services team has led the process in managing tertiary pathways to ensure that patients from across the region can receive high quality treatment in line with national waiting time standards.
Samuel said: "It's amazing to have won. We are a small part of the massive clinical team that does so much good for the 26,000 cancer patients that are referred to our trust each year and all we want to do is support our clinical teams to make the best decisions they can. We have an amazing consultant body and we just love being a part of it!"
The other shortlisted nominees were Joe Philip and the Bristol Lithotripsy Unit and Gareth Wrathall and the ICU Coastal Challenge Team.
Rising Star: Neil Barua, Consultant Neurosurgeon
Neil has been improving both the educational and clinical service experience of F2 doctors, personally delivering a high quality clinical teaching program and restructuring working patterns to help them feel more supported.
He said: "It was a really nice surprise to be nominated and an even bigger surprise to win. I feel very lucky to be part of a great team in neurosurgery and this award is really a result of all the support I've received as a new consultant."
The other shortlisted nominees were Specialist Speech & Language Therapist Daisy Elliott and AMU Staff Nurse Chantelle Sims.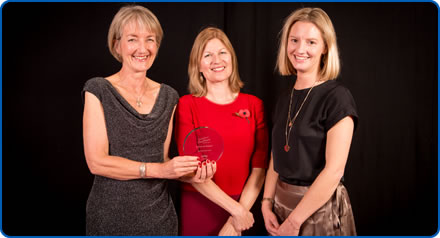 Chief Executive Award:  Rachel Royston, Rachel Gunary and Lorraine Motuel, Schwartz Rounds
The Chief Executive Award is presented at the discretion of the Chief Executive Andrea Young to acknowledge an individual or team who have made an outstanding contribution to North Bristol NHS Trust. This year Andrea presented the award to our Schwartz Rounds team.
Rachel Gunary said: "We are honoured and thrilled to be nominated. We couldn't have done the work without our admin support."
Rachel Royston said: "We believe deeply in this initiative, and are glad that the Trust has embraced it."
North Bristol NHS Trust Chief Executive Andrea Young said: "Schwartz Rounds are open to everybody, allowing colleagues to connect and reflect on the emotional impact of our work. The sessions are well-received and are always full.
"The team organised the implementation of Schwartz Rounds at NBT all on their own. They managed to secure funding through Southmead Hospital League of Friends and received training. The team had a real belief in Schwartz Rounds and it has made such a difference to staff. The evidence is in the numbers, which grows and grows every time. It is a fantastic experience and it's great to see it take off."
TV presenter Will Glennon, who compered the awards for the third year running, said: "It was a really great atmosphere in the room and it was excellent to be part of the Exceptional Healthcare Awards again.

"It gives me a really warm feeling. After my experience at Southmead Hospital, I have such an affection for the people who work at NBT and even if they didn't work on me I know they work to keep the hospital running all the time. I feel they are part of the wider Southmead family and that is why I just feel a huge amount of affinity to all of them."

 

Elizabeth Bond, Head of Fundraising for Southmead Hospital Charity, said: "Southmead Hospital Charity are proud to support the Exceptional Healthcare Awards for the sixth year and we'd like to thank all our award sponsors for their support also.

"It was wonderful to see and hear all the amazing work of staff at North Bristol NHS Trust, and we are pleased to be able to recognise those people who do an exceptional job and share their passion for their patients and colleagues."