Free parking initiative launched for carers
Carers of patients at Southmead Hospital can now benefit from free parking.
North Bristol NHS Trust is relaunching its Carers Support Scheme today (Monday, April 11) with added benefits for carers supporting inpatients in Southmead Hospital.
Unpaid carers can apply for free parking for the time they are staying with their loved one in hospital. They can also apply for an access card that will enable them to get onto the ward and use the staff restaurant .
The Carers Support Scheme was developed for carers who want to support the person they care for while that person is in hospital.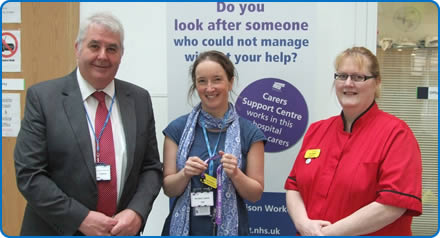 Previously carers could park at a discounted rate on the Southmead Hospital site, but in response to carers feedback and the Trust's support of John's Campaign for carers, the scheme has been amended to enable carers to apply for free parking.
Hospital Carers Liaison Worker, Kate Sykes, said: "These concessions for carers acknowledge the invaluable work that carers do in supporting the person they care for in the ward environment.
"They come in and can spend all day with someone if that is what they and the patient want to happen . That is of great benefit to the patients and also for the ward staff  as this helps  them  more readily meet the patient's needs in partnership with the carer.
"There were concessions for carers previously, but this takes it a step further and has a huge impact all round."
Kate added: "Providing access to the staff restaurant also makes a huge difference to carers, who are spending hours on the ward every day, as it gives them the chance to spend some time away from the ward and to get a hot meal."
Customer Care Manager for the Travel and Parking Office, Colin Hemsley, said: "We have received feedback from people who feel they are trying to support the hospital by coming in to care and now we have been able to come up with a positive solution that will improve their experience."
Dementia Matron, Jet O'Neill, said: "This is about enhancing the experience for the patient and carers and helping to provide personalised care.
 "We have been working with John's Campaign and sharing our progress with them."
The Carers Support Scheme also includes a Carers Conversation between ward staff and the carer to ensure that staff understand the role of the individual carer.
Carers can access free parking and an access pass by speaking to a member of staff on the ward.
For more information visit the Carers Support page on our website.