Healing exhibition goes on display in Southmead Hospital's Brunel building
An art exhibition inspired by people's experiences of healing has gone on display in our Brunel building at Southmead Hospital.
How are you healing? brings together people's experiences and understanding of physical, mental and spiritual healing – from mending broken bones to finding wholeness of mind, body and soul.
The exhibition features materials gathered as part of research projects on healing carried out by a team at the University of Exeter, led by Professor Paul Dieppe.
One of the Exeter projects, which was funded by The Institute of Integrative Health (TIIH), based in Baltimore, USA, features the drawings and words of people in response to the question, "what does healing mean to you?"
Artist Deborah Weinreb, has drawn various aspects of the research together to illustrate the themes of: the ways in which we can be broken, the need for connections to others and the world around us, healing at the end of life's journey and the possibility of a good death, and wholeness and oneness.
She said: "It has been a real privilege to immerse myself in this research and try to produce outcomes that can inspire others to explore these themes."
Fresh Arts Programme Manager at North Bristol NHS Trust, Donna Baber, said: "We are delighted to present the 'How are you healing?' exhibition as part of our ongoing arts programme at Southmead Hospital. 
"The exhibition explores how we can experience the feeling of being 'broken' and makes suggestions of ways that we can manage that when it happens. Most of the time we can heal ourselves, but sometimes we need help and this help can come in many forms – from other people, nature, arts and creativity, or spiritual beliefs. 
"This exhibition reminds us that healing often results from connecting to something outside ourselves."
As part of the exhibition hospital staff will also be offered health and wellbeing workshops, highlighting the importance of staff needing to be well to help others.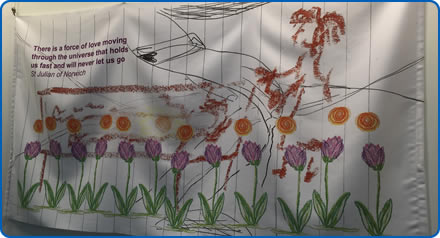 Lead researcher Professor Paul Dieppe said "Many of us become 'broken' in some way during our lives. Our exhibition explores what we can do when that happens. How can we find a new pathway to wholeness and to travel forward on our own 'healing journeys'? While we have the capacity to heal ourselves from some kinds of brokenness, often we need help and this can come from connecting to something outside ourselves: from other people, or from nature, or arts or spiritual belief.  Healing journeys are not just about us as isolated individuals, they can be about relationships, families, groups, outdoor spaces. Our exhibition and the research it stems from seek to explore the wide spectrum of healing stories."
The exhibition in the main atrium of the Brunel will be on display until January. There will be an informal opening today (Tuesday, September 4) from 4 – 6pm.