NHS 70 stories - how Lily's neighbour's tales of the NHS brought her to Southmead Hospital
The NHS tales of Lily Hawkins' neighbour convinced her that a career in the health service was for her.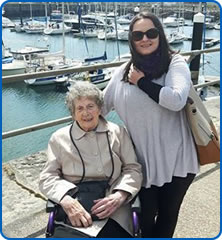 Lily first met Christine Davidson, who was then 88, in 2012 when they lived next to each other in Plymouth and soon became good friends.
Bristol-born Christine moved to London to work in one of the city's hospitals. After the war she moved back to Bristol to work in the regional health offices, when in 1948 she recalls how Health Minister, Aneurin (Nye) Bevan walked in.
Christine spoke with her colleagues about his vision for a new national health service that would mean that you didn't have to pay a sixpence to visit a doctor.
Nye asked Christine to work with him which she gladly did, and recalls one of the their first jobs was to write to all doctors terminating their current contract and offering them a new contract under the NHS.
At the age of 94 when Christine visits hospital she often entertains staff with stories of Nye Bevan.
Christine's story had a huge impact on Lily's life and she decided to pursue her own career in the NHS.
Lily said: "I was offered an opportunity to work at Southmead just over a year ago and since then have been working with the team on Gate 28 A. I have been a Health Care Assistant there and have really enjoyed being part of the NHS family"
" Christine was always talking to me about how wonderful the NHS was and she certainly played a key role in encouraging me to join. Ultimately it's really about doing something with your life that really makes a difference to people -  and that's what I like most about working at Southmead."