Southmead Hospital has been associated with some of the biggest moments of Keri's life. It is the place that brought her life, put her back together when she was hit by a car as a child and saved the life of her and her first child after she contracted sepsis in labour.
It is also the place where her husband died suddenly back in February.
Southmead has seen "some of the happiest and the very darkest days" of her life.
Southmead Hospital and North Bristol NHS Trust are also closely linked with Keri's career. It was her time at Southmead as an 11-year-old that led to her wanting to be a nurse and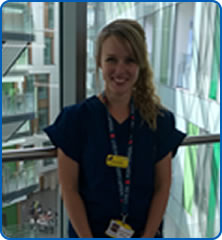 she went on to do her training at Frenchay and the Trust is where she has done all her nursing.
Despite the sadness associated with her husband, Mark's death, Palliative Care Specialist Nurse Keri felt that she was protected by him being in hospital when he died and was determined to come back to work
"I didn't want this place to be associated with something awful that happened to me," Keri said.
"He died here but it saved me.
"This place and these people are forever a part of me…they have stood beside me, held me and listened to me in my need."
Like her three sisters Keri was born at Southmead Hospital and when she was knocked over by a car aged 11 it was where she was brought.
"I had broken my pelvis, my leg and injured my head," she said.
"That's where my whole nursing thing came from and this is where I started my training in 2004, on what would have been F ward. I worked really hard for it and I do feel really lucky to be here now in my uniform."
Between Frenchay and Southmead hospitals Keri has completed over ten years' service.
After several years working in theatres and ICU she had a brief stint at Thornbury Hospital in 2013 to gain more relevant experience. It was during this time that she had her daughter Casey and while on maternity leave she saw the palliative care nurse specialist role advertised and applied.
Casey's birth was "quite terrifying" for Keri and Mark. Keri became unwell while labour was progressing and it was necessary to operate.
Casey was very unwell when she was born and was taken straight to the Neonatal Intensive Care Unit (NICU) where she spent a week while Keri was on Quantock Ward.
"About six hours after she was born I went to see Casey – they said I could only go if I could get out of bed and into a wheelchair, I was so determined I would," Keri said.
Keri's second baby Parker was born by elective Caesarean two days before Christmas in 2015 and she had been back from maternity leave for about a year when everything changed.
"I had got a band 7 clinical nurse specialist post and everything was going quite swimmingly. Until February."
Keri said Mark was a man who never went to the doctors but when he became unwell he was worried and that worried her all the more.
"He died of an aortic dissection, he had probably been walking around for years like a ticking time bomb and we just never knew."
"I presented here with him as I just wasn't happy", Keri said.
"He could have just died in bed and my gut is what protected us from that.
"To look at him he could just have had flu, but they listened to me.
"All these years he had been walking around with this and we had only been in the Acute Medical Unit with the kids ten minutes when he has a cardiac arrest. That protected us. We weren't at home. The kids didn't have to see me try and save him.
"Here he had the best shot – they threw everything at him. They were brilliant. He was well looked after."
Following her experience Keri is registering a charity to support bereaved children by providing memory boxes for those whose parents die in the hospital. It also hopes to purchase a holiday home so that bereaved children can make new memories.

Keri has been back at work for just over three months now and it was important for her to return to the job she loves.
"Work makes me happy and this place has held my hand," she said.
"This is the only thing that hasn't changed for me."
And her experience has helped in her work, looking after people at the end of their lives.
"This will make me better at my job," she said.
"I have sat next to people all these times and done my best to understand, but I do now."
Keri knows that as a local hospital caring for her relatives in the future it is important that her children understand that helps lots of people.
"The kids need to know that most people come here, have care and they go home," she said.
"My parents and family will need the services of this hospital in the future. It's somewhere I know and I trust and amazing stuff happens here.
"Bad things happen in life all the time, that's why people are here. It's not perfect but they did their best for me and my family.
"I guess that this is a thank you, I owe this place my life and perhaps a little more"
"Everybody should be really proud of this machine."