We have welcomed the launch of an inquiry report into the arts, health and wellbeing.
The All-Party Parliamentary Group (APPG) report, 'Creative Health: The Arts for Health and Wellbeing' recommends a country-wide adoption of the arts in health strategy. The potential benefits of this include cost savings, getting patients home quicker and improving patients' mental wellbeing
We have used the arts to improve patient health and encourage quicker recovery through our Fresh Arts programme.
Fresh Arts aims to enhance patient experience and improve morale across Southmead and Cossham Hospitals. The programme includes arts commissions, rolling exhibitions and other arts-based activities and projects that have emotional and physical benefits for patients, staff and visitors.
One successful ongoing project is 'Knit With Me', a collaboration with textile artist Ali Brown. Ali knits with patients on the wards, and leaves material for patients to carry on with during their stay at hospital. The project provides a calming effect for patients, while creating visual, touch and emotional stimulation.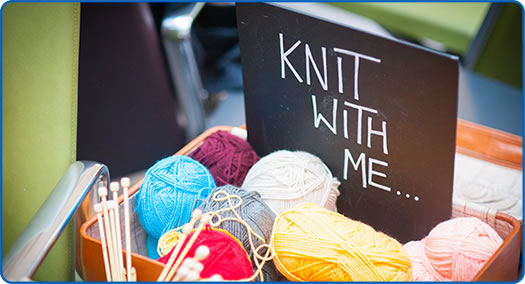 The project has had high praise from patients, including one patient who said: "I consider myself to have had fate smiling on me, as chatting and knitting made me feel less anxious to the extent that I managed a full 30 minutes deep in the scanner which as a claustrophobe I didn't think I could cope with."
Knit With Me is just one of the many successful Fresh Arts projects which has shown the benefit of the arts in hospital.
Arts Programme Manager at North Bristol NHS Trust, Ruth Sidgwick said: "NBT is an advocate for using the arts, as research has shown that this can save the NHS money by improving patient wellbeing, reducing the need for medication and getting patients home quicker.
"Fresh Arts runs multiple projects throughout Southmead and Cossham Hospitals, from knitting and visual arts to live music at the patient bedside and dance for Parkinson's patients. Just recently we ran a successful taster project called Life Books, encouraging creative engagement in neuropsychiatry in-patients. I'm looking forward to continuing our work and exploring the ways in which creativity can aid recovery."
To find out more about North Bristol NHS Trust's Fresh Arts programme, visit www.nbt.nhs.uk/fresh-arts