BBJ - Osteoarthritis
Osteoarthritis is the most common form of arthritis, affecting millions of people around the world. It occurs when the cartilage surfaces within your joints become damaged so the joint doesn't move as smoothly as it should. This can lead to painful, swollen and stiff joints.
Osteoarthritis can damage any joint in your body but most commonly affects joints in your: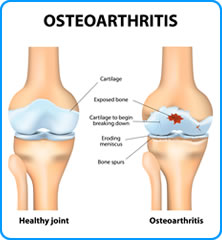 hands

neck
lower back
knees
hips
Although osteoarthritis gradually worsens with time, and no cure exists, there are treatments that can slow the progression of the disease, relieve pain and improve joint function.
For more information about osteoarthritis visit:
Arthritis UK www.arthritisresearchuk.org/arthritis-information/conditions/osteoarthritis.aspx
The NHS website www.nhs.uk/Conditions/Osteoarthritis/Pages/Introduction.aspx