Meet our clinical teams
Meet our clinical teams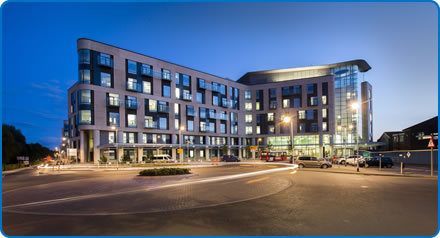 Are you a registered or newly qualifying nurse, ODP or Midwife looking to work in one of the leading acute hospitals in Europe?
Come and meet our clinical teams to discuss our opportunities, and discover how we can help you to acheive your full potential.
Why choose our trust?
We're a nationally recognised centre of excellence for a wide range of services and specialties
"At North Bristol NHS Trust, we're proud to have one of the most modern hospitals in Europe and our staff who are at the forefront of nursing and medical knowledge" Andrea Young, Chief Executive
We're proud of our state-of-the-art facilities and modern technology
"I really like the Brunel building, it's state of the art where we can provide 21st century care to the patients" -Simi, Clinical Matron
We offer our newly qualified nurses comprehensive preceptorship support 
"As a newly qualified, it was a bit daunting coming to the Acute Medical Unit as a fresh nurse but I wasn't only supported by the great staff on AMU but we had a great preceptorship which is trust wide to help me integrate myself from a student to a newly qualified nurse"- Zoe, Senior Staff Nurse
Our clinical skills training is nationally recognised as 'gold standard' 
"As one of our nurses, we know you won't want to stand still and that's why we offer personalised training packages and bespoke rotations for the career of your choice'. Helen Blanchard- Director of Nursing
We offer relocation expenses of up to £4,000 for eligible candidates* 
"I love living in Bristol, the nightlife is great, there's lots of shopping centres. It's really close to London and Wales where I'm from so it's a great central place to base yourself"-Zoe, Senior Staff Nurse
We support you to follow your personal career aspirations
"I've been an adult nurse for 10 years and to transition into neonatal- it's a dream really for me, I didn't realise I could do it as an adult nurse. I feel really honoured to have found this new role actually". Leanne Fear, Staff Nurse
We encourage you to attend our events, listed below.
*Relocation expenses- T&Cs apply. Please refer to the North Bristol NHS Trust Relocation Policy for full details or email talentacquisition@nbt.nhs.uk to find out more.
Registered and Newly Qualifying Nurse Engagement Event: 25 September 2019- Bristol
Nursing and ODP Careers: Autumn Exhibition - 26 October 2019 - Bristol
Registered and Newly Qualifying Nurse Engagement Event -28 November 2019 - Bristol
Get a glimpse of a career at our trust through our social media channels