Leadership roles at North Bristol NHS Trust
Our Trust
North Bristol NHS Trust is one of the largest hospital Trusts in the South West of England, providing hospital and community healthcare to the residents of Bristol, South Gloucestershire and North Somerset. With an annual budget of more than £668m, we are also a specialist regional centre for a number of services including neurosurgery, renal (kidney) medicine, plastics, orthopaedics and major trauma.
We operate state-of-the-art facilities at Southmead Hospital's £430 million Brunel building, with 800 beds of which 75 per cent are single rooms with en-suite toilet and shower rooms. We also host services at Cossham Hospital, Bristol Centre for Enablement and Frenchay. 
Of course, none of this will be possible without the professionalism and dedication of our staff. We currently employ 9,269 substantive staff members and an additional 2,104 bank staff with our in-house bank NBTeXtra. 
We're committed to helping our patients, and providing exceptional healthcare that's personally delivered.
Our Vision
Our vision:
"We will realise the great potential of our organisation by empowering our skilled and caring staff to deliver high-quality financially sustainable services in state-of-the-art facilities. Clinical outcomes will be excellent and with a spirit of openness and candour we will ensure an outstanding experience for our patients.'
Our values: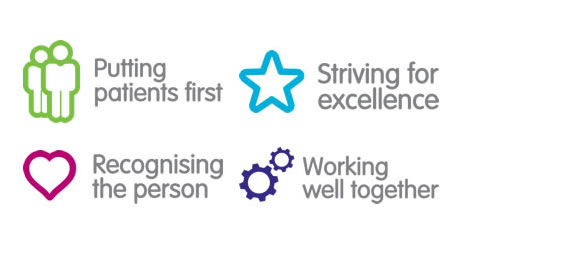 Our Services
Southmead Hospital Bristol is a centre of excellence for the south west and beyond in a range of services and major specialties. Our pioneering treatments and advances in care have won international recognition, placing us at the forefront of medical knowledge.
Major Trauma
North Bristol NHS Trust is one of two designated Major Trauma Centres in South West England, servicing the Severn region.
The Major Trauma Centre, supported by six acute trusts as designated trauma units, helps increase chances of survival and recovery for seriously ill patients.
As a Major Trauma Centre, Southmead Hospital will ensure that patients who are admitted have access to specialist equipment and a full range of trauma specialists, including orthopaedics, neurosurgery and radiology teams.
This will help improve patient's chances of survival and help them recover faster; it is estimated that survival rates are increased by up to 30%.
In addition to clinical teams we have a team of experienced nurses and therapists who are available specifically to coordinate the care of seriously injured patients and provide support and information to patients and families both during and after their stay at the Major Trauma Centre.
Neurosciences
The Institute is the regional centre for Neurological services serving the South West of England. It provides specialised services for a wide spectrum of Neurological conditions:
Neurology
Neuroradiology
Neuropathology
Neurosurgery
Neuropsychiatry
Neurophysiology
Nursing
Physiotherapy
Since the 1940s the Institute has consistently been at the forefront of technical advances. The service has an excellent national and international reputation, with patient referrals from across the South West, throughout the UK and worldwide.
Using the very latest cutting edge techniques the Neurosciences team treat a wide range of conditions, Some examples include the use of pioneering deep brain stimulation techniques for the treatment of functional disorders such as Parkinson's disease, led by Professor Gill, and developing the use of robotic surgery to deliver drugs directly into the brain with pinpoint accuracy.
There are strong links with the University of Bristol with ground-breaking research into the treatment of conditions including Multiple Sclerosis and Dementia, led by Professor Neil Scolding, and the wider use of deep brain stimulation in the field of Pain management and Depression, led by Mr Nik Patel.
Orthopaedics
The Orthopaedic Department at Southmead Hospital is world renowned for its innovation and expertise.
We are a centre of excellence in the South West, treating patients from across the region after accidents and for planned surgery.
The Avon Orthopaedic Centre is one of the largest orthopaedic centres in the South West and has an international reputation for hip and knee surgery, carrying out 1,000 knee replacements a year. It is one of the best known foot and ankle services in Europe.
Historically, the Avon Orthopaedic Centre, has been one of the leading centres in the country for research and innovation in orthopaedic care.
With 745 members of staff, it provides an extensive joint replacement service for both routine and complex joint replacements, in particular revision arthroplasty hips, knees, ankles and shoulders as well as upper limb surgery.  
The orthopaedic department also provides an extensive trauma injury service working alongside expert plastic surgical and neurosurgical units within North Bristol NHS Trust.
We have an integrated and highly experienced team for hip fractures, including specialist services in lower limb reconstruction, spinal surgery and upper limb reconstruction.
Renal and Transplant
The Richard Bright Renal Service at Southmead Hospital Bristol is the largest of its kind in the South West of England.
It carries out more than 100 kidney transplants every year and has led the way with laparoscopic kidney transplants (keyhole surgery), spousal donation and non-heart beating donor transplants. The unit is also pioneering techniques to enable highly sensitised patients and recipients and donors with incompatible blood groups to have a live kidney transplant.
Southmead Hospital Bristol has been at the forefront of the living kidney transplant programme for many years and has some of the best success rates in the country. We are also the UK's largest referring unit for the pancreatic transplants – one of only six hospitals in England to provide islet transplantation.
More than 430 patients receive dialysis at Southmead Hospital Bristol or one of our satellite units in Bath, Weston-super-Mare, Southmead, South Bristol, Taunton and Frome or our bran dnew dialysis centre at the redeveloped Cossham Hospital in Kingswood.
We are also leading the way in home dialysis treatment, offering patients the option of dialysing at home with a dedicated team of staff to support them.
The service has a superb national and international reputation and is the only hospital outside of London to have had two consecutive presidents of the Renal Association working with us. We have a dedicated team of nurses, doctors and transplant co-ordinators to ensure all patients have the best experience we can offer.
Vascular Surgery
North Bristol NHS Trust delivers the vascular service for the 1.12 million people of Bristol, North Somerset, Bath, North East Somerset, South Gloucestershire and Wiltshire. Formed in 2014, the major arterial centre (MAC) for the network is Southmead Hospital.
The network is responsible for the delivery of both elective and emergency vascular care. This includes all arterial surgery for the area, and:
Varicose vein treatments
Diabetic foot care
Renal access
In addition, the network provides complex endovascular services for the 3.5 million people of the South West.
The Major Arterial Centre provides 24 hours a day, seven day a week service for vascular surgery and interventional radiology. We have a 32-bedded vascular ward in the Brunel building on level 2, gate 33B, Southmead Hospital and both a dedicated operating theatre and hybrid theatre available for the vascular service.
Vascular surgery has been recognised as leading service at North Bristol NHS Trust alongside our regional trauma, renal, neurosurgery and plastics units. This position will be further strengthened with the appointment by the University of Bristol of Prof Robert Hinchliffe as Clinical Professor of Vascular Surgery.
Plastic Surgery
North Bristol NHS Trust is a regional centre of excellence in plastic and reconstructive surgery.
The service at Southmead Hospital Bristol is one of the largest in England providing a highly specialised team experienced in the most complex cases.
Its core specialities are:
Burns
Hand surgery
Lower limb
Breast reconstruction
Skin cancer
Soft tissue sarcoma
Head and neck cancer
Bristol Laser Centre
Cleft lip and palate
The core team of 52 clinical staff includes a clinical psychologist for patients with disfigurement through the Outlook service as well as speech and language therapists.
The service sees around 8,500 inpatients a year and 37,000 outpatients from across the region. It carries out more than 150 micro-vascular reconstructions a year.
The Skin Cancer Centre provides an integrated service under the same roof, providing high quality care to more than 2,000 patients a year.
Urology
Bristol Urological Institute (BUI), based at Southmead Hospital Bristol, is the largest urology department in the South West and one of the largest in the country.
The BUI offers care for all urological conditions including:
Cancers such as kidney, prostate, bladder and testis
Stone disease of the kidney
Incontinence problems
Benign prostate conditions
Erectile dysfunction.
Urology services include:
Outpatients at Southmead Hospital, South Bristol Community Hospital and Clevedon Hospital.
Inpatient (wards) for surgery and emergencies at Southmead Hospital.
Urodynamic investigations for those with bladder and benign prostate conditions.
The BUI is also active in Research and Teaching offering patients the opportunity to take part in our current research projects.
Our Strategy
Our Five Year Strategy
Our vision is that by enabling our teams to be the best that they can be, we will provide exceptional healthcare, personally delivered.
The best health and care is not the work of an individual, a single team or even one organisation. Partnership and collaboration is fundamental.
"Exceptional healthcare" means our patients will recognise that we are exemplars of safe, harm-free care and that we give them the best possible health improvement. We will do this through  outstanding Emergency Care, our centres of excellence for Specialist Services, our great Local Services and as a Powerhouse for Pathology and Imaging.
"Personally delivered" means patients are in charge of their own care and the decisions that need to be made for their health and wellbeing. A genuine partnership with patients and the public is at the heart of any changes we make and will ensure an outstanding patient and carer experience.
Designed with staff, patients and partners, the strategy describes how we want to:
provide high quality patient care;
develop healthcare for the future;
become an employer of choice; and
act as an anchor in the community.
Download our Five Year Strategy:
Our Quality Strategy
This strategy sets out a strong vision of working collectively to achieve our ambitions, and shows how we will come together as OneNBT to provide the very best care that we can.
It is made up of three themed chapters:
Exceptional Personalised care

Safe and Harm Free Care

Excellent clinical outcomes
Download our Quality Strategy:
Our People
Our People Strategy
Our People Strategy aims to continue to build an empowered, inclusive and motivated workforce which is fit for the future, and able to adapt to the changing healthcare landscape both locally and nationally.
As part of a 1.3M strong NHS workforce, we achieve the extraordinary every day. Our strategy underpins the NHS People Plan for 20/21 but also charts our journey, ambition and passions to provide high quality compassionate patient care.
Our People Strategy puts our teams at the centre of all we do at NBT, and is focussed on 3 key themes:
Great place to work
Growing and developing our workforce
Better people support
As well as this, we continue to deliver on our NHS People Promise:
We are compassionate and inclusive
We are recognised and rewarded
We each have a voice that counts
We are safe and healthy
We are always learning
We work flexibly
We are a team
The Joint Union Committee said:
"We support the NBT People Plan and are committed to the NHS promise to work together to improve the experience of working in the NHS for everyone. This has always been the aim of the Trade Union movement. We will continue to strive to improve working conditions for everyone and celebrate our successes together. "
Download our People Strategy:
Our Board
The Board of Directors at North Bristol NHS Trust is committed to creating a strong, vibrant organisation which is at the forefront of healthcare delivery in the West of England. The Trust Management Team is responsible for delivering the strategic vision. Each year, the Trust and Directorate business plans will detail actions that will specify how the strategic themes will be progressed. Implementation of the business plans is overseen by the Trust Management Team and the Board.
The Trust Board consists of:
a Chair
the Chief Executive
Chair: Michele Romaine
Until March 2017 Michele ran her own consulting practice, working with a number of international media organisations on business transformation.  She has also set up and run media consulting businesses for Avid Technology and Langsdale Crook.
Between 1992 and 2004 she held a number of senior roles with the BBC including Director of Production and at one time was the News Editor for the BBC in Bristol. Michele has also previously worked with Royal Devon and Exeter Trust and was a Non-Executive Director on the Board of Salisbury NHS Foundation Trust, before beginning her role as Chair at North Bristol NHS Trust in August 2018.
Chief Executive: Andrea Young
Prior to her appointment at North Bristol NHS Trust in 2013, she was Regional Director (South) for NHS England when she established the new commissioning arrangements overseeing resources of £13bn. Before this she was Chief Executive of NHS South Central (SHA) 2009-13 and a member of the NHS Management Board. Previous CEO roles include Oxfordshire PCT and Oxford City PCT.
She has worked at national, regional and local level across public health and commissioning roles. She is a qualified Nurse and Midwife and holds BSc Social Sciences & MA Socio-legal studies.
Andrea is due to retire in December 2020 with Maria Kane being appointed as the new Chief Executive for North Bristol NHS Trust, starting in April 2020. Deputy Chief Executive Evelyn Barker will then take on the role of interim Chief Executive until Maria arrives. 
Our Partners
Our organisation is one of 13 health and care organisations that make up Healthier Together – our local Sustainability and Transformation Partnership (STP).
Healthier Together represents a commitment to improving health and care in Bristol, North Somerset and South Gloucestershire. It is about tackling the issues that matter most and finding ways to continue providing safe, high-quality care for generations to come.

We have involved our communities in helping us to shape our plans and will continue to listen and work with local people, staff and the voluntary sector as we progress towards a more integrated approach to delivering health and care in Bristol, North Somerset and South Gloucestershire.
We will take a leading role and work with health and social care partners to develop and implement a Sustainability and Transformation plan for the Bristol, North Somerset and South Gloucestershire area. This will improve the lives of residents by ensuring their healthcare needs are met as mandated in the NHS England Five Year Forward View. We will also work with specialist commissioners and networks of local providers to ensure high quality delivery of the specialist services for which we have a wider responsibility to the population of the South West of England

Please visit our dedicated Healthier Together website to find out more at bnssghealthiertogether and follow our partnership Twitter feed for latest news @HTBNSSG.
View our Jobs of the week below. Visit our Careers website for full list of roles available in our Trust.  
Related Information
Job Title: Divisional Director of Nursing
Band: 8d
Salary: £75,914 - £87,754 per annum
Contract Type: Fixed Term - 12 months
Are you a highly motivated professional senior nurse looking to take the next step in your career and play a pivotal role in one of the largest hospital trusts in the UK? Due to the secondment of the post holder, we have an excellent opportunity for the right individual to join our Divisional Leadership Team and further develop their careers.
Job Title: Consultant Stroke Physician
Band: Consultant
Salary: £82,096 - £110,683 per annum
Contract Type: Fixed Term
This is an exciting opportunity for a clinically qualified individual to join the growing stroke department at North Bristol NHS Trust. We are the third largest provider of thrombectomy care nationally and are expanding the department to meet the needs of patients.   
Job Title: Cancer Services Manager
Band: 8d
Salary: £53,168 - £62,001 per annum
Contract Type: Substantive
The successful candidate will work as part of a management team, working collaboratively with the Trust Clinical Lead and Lead Nurse for Cancer and the Deputy Chief Operating Officer to support the Trust in implementing the NHS Cancer Strategy and Quality agenda.  
Can't find the right role for you?
Follow us on LinkedIn and create a tailored job alert to be notified when roles become available with our Trust