Fresh Arts is delivered by a small staff team, with support from artists, volunteers and the Fresh Arts Committee as well as our partners.
We are passionate about art and how it can support our patients, staff and visitors. We are makers, artists and creative enthusiasts who enjoy introducing people to the life-enancing potential of creativity.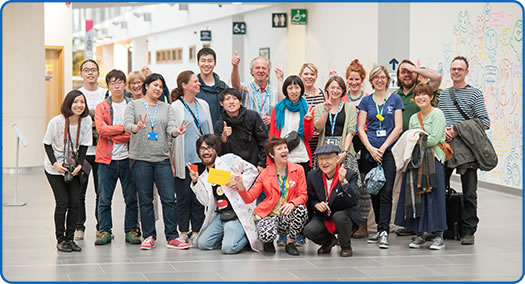 We use creativity to:
start conversations with patients
share experiences
inspire hope
empower people
escape into our imaginations
support staff
Overall we want to break the rules, surprise people & challenge the idea of what it means to be in hospital.
Fresh Arts Programme Manager
Ruth Sidgwick
Ruth is an experienced arts manager who has been working for North Bristol NHS Trust since 2009. A real people person, Ruth has developed the Fresh Arts way of working, which puts patients at the heart of the arts programme and supports artists to deliver exciting, high-quality arts activities.  Alongside her work she is currently studying part-time for an MA in Arts Practice (Arts, Health and Wellbeing) at University of South Wales.
Artists
Fresh Arts could not deliver its programme without working in partnership with supremely talented artists:
Volunteers
Fresh Arts is supported by a fantastic team of volunteers:
Lou Baker (Make Your Mark)
Kim Clements and Sue Bushell and all the knitters out there in the community who have made knitted squares, Twiddlemuffs and Wonky Eyed Teddies (Knit With Me)
Sophie Turner, Rachael Walsh and Ruth Allen supporting our dancers with Parkinson's (Momentum)
Each and every one of our 52 brilliant pianists!