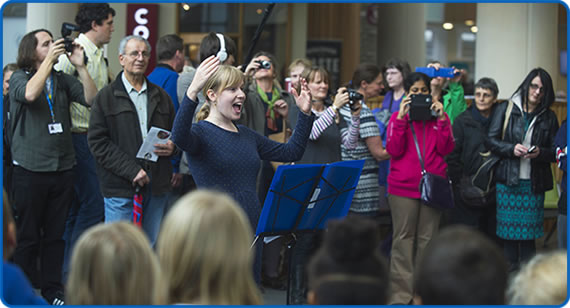 The first Fresh Arts Festival in 2014 was abut breathing life, spirit and community into the newly launched Southmead Hospital buildings.
It brought together poetic first aid, a community knitting installation, model car racing, promenade theatre, music and a writer-in-residence on the wards, community choirs and other activities to celebrate the opening of the new building.
The festival was the culmination of the Southmead Hospital public art programme, which involved patients, staff and the wider community and resulted in permanent works by national & international artists in the building and grounds.
During the event, patients, staff, visitors, families and local residents had the chance to experience and learn about the role that art is playing in creating a better experience for North Bristol NHS Trust patients.
Performances, workshops and activities celebrated the role that the arts play in bringing the building to life and connecting to the communities who use it.
Textile artist Ali Brown created the Giant Jumper installation over the entrance of the building, working with staff and patients all over the hospital to knit small squares which were then joined together in a big patchwork explosion of colour.
Promenade style theatre performances were created from real stories and memories of the old hospital and writer-in-residence Sue Mayfielf explored people's loves and needs in a 'Lifeline' of poetry.
The final day of the Festival saw a grand Speed Derby take place in the hospital's new atrium. Staff from across the Trust had been involved in workshops to build new teams by designing and crafting their own model cars to race on our Speed Derby track around the building.
The Fresh Arts Festival helped to create a sense of ownership of the new building and to make some fantastic new memories for patients, staff and visitors to Southmead.