Knit With Me brings the creative craft of knitting into Southmead Hospital.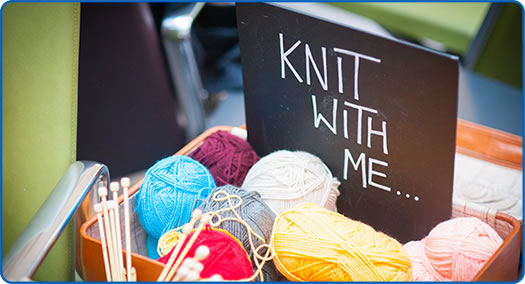 It has been taking place across the site and at satellite dialysis units since July 2014, in the form of a residency with textile artist Ali Brown.
Ali travels the hospital with a suitcase full of wool and knitting needles. She has knitted with patients on the wards, and leaves knitting for patients to carry on with during their stay at the hospital.
The residency has seen Ali work with patient groups from lots of different parts of the hospital to create curious, colourful, cosy knitted objects including a giant jumper, wonky-eyed teddies, a knitted wisdom machine, envelopes of inspiration and even a knitted bus stop.
Since the project first began she has run knitting afternoons with stroke rehabilitation and dementia patients in Elgar House, regular Staff Arts Clubs, workshops in the Steps eating disorders clinic and regular drop-in sessions at the Costa café in Brunel attended by staff, members of the public and patients.
Over 2015 we estimate that more than 14,000 people benefitted from Knit With Me - seeing installations, creating and receiving woolly items, learning new skills and getting involved… and the figure continues to grow.
Leading think-tank the New Economics Foundation developed a set of five evidence-based actions which can boost our personal – and collective – wellbeing.
Across the different (woollen) strands of the residency, Knit With Me exemplifies these five ways to wellbeing:
connecting – knitting in a group, sharing wisdom, making a small part of a larger artwork
learning – Ali has taught many people to knit for the first time as part of the project
being active – the rhythmic action of knitting can improve co-ordination & balance as well as aiding pain management
taking notice – focusing on the moment, listening to each other, seeing the installations
giving – helping others by making a teddy, giving support and time to teach skills, passing on words of wisdom – acts of altruism that pass anonymously around the hospitals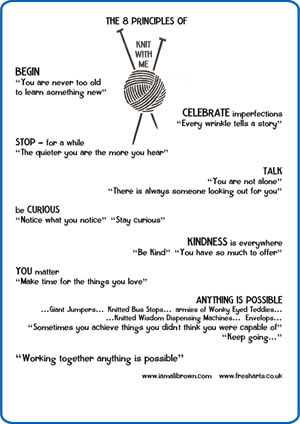 In fact, we have such positive results from the patients who join our knitting sessions we decided to write our own version of the 5 Ways to Wellbeing, illustrated by quotes from our patients: The 8 Principles of Knit With Me
If that wasn't enough, the project has also produced a wonderful sense of community across Southmead; bringing people together to share common ground, stories and spaces in which to connect and to cultivate their sense of belonging in the world.
Benefits of Knitting for Patients
Knitting is sometimes viewed – or even dismissed - as 'women's work' and an undemanding craft activity, but research has demonstrated that it brings benefits way beyond that of a relaxing hobby.
Knit With Me celebrates the therapeutic benefits of knitting, collaboration and demonstrates what can be achieved when people work together. It brings a familiar, comforting, domestic hobby into the clinical space of the hospital, softening the impact of this big, imposing building.
Knit With Me supports wellbeing by calming and creating time for reflection, as well as providing visual, tactile and emotional stimulation.
Research has demonstrated multiple outcomes for this particular creative activity; knitting alleviates symptoms such as chronic pain, stress, depression, panic and anxiety. 
Physically, patients benefit from increased bi-lateral, repetitive, rhythmic and automatic movement as well as improved co-ordination and balance - both physical and emotional.  
It is a relaxing, focused activity which gives patients the space to step outside the routine of clinical procedures and to nurture an active sense of reappraisal of themselves and their skills. As one of our older patients (in her 70s) in Elgar House told us:, "You are never too old to learn something new"!
Learning a new skill in this way can boost self-esteem and resilience, which is vital when facing challenging circumstances such as a clinical procedure or a stay in hospital.
Knit With Me has also discovered another benefit - knitting creates a safe space for conversation. When knitting together there is no need to fill silences or maintain eye contact. The shared act of making allows for difficult topics to surface and allows conversation to flow by taking the pressure off.
An Outpatient's Story
During a drop-in knitting session in the Brunel building earlier this summer, an out-patient was encouraged to join the group for a cup of tea and some knitting while she waited for her MRI scan. A couple of days later she sent the Fresh Arts team this message...
"It was lovely to be adopted by the knitting group especially as hospital can feel alienating. Art in hospitals is so important in this respect.
I consider myself to have had fate smiling on me, as chatting and knitting made me feel less anxious to the extent that I managed a full 30mins deep in the scanner, which as a claustrophobe I didn't think I could cope with.
I would never have imagined myself to be knitting in hospital! It was heart-warming to find a creative corner in that vast building.
Going from a vast public space to the tiny act of knitting and talking to a nice welcoming group of strangers changed my feeling about the whole hospital. Many thanks"