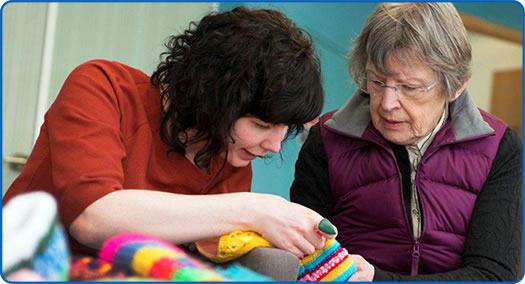 The next step for Knit With Me was the invention of… Twiddlemuffs!
Twiddlemuffs are cosy, knitted tubes of wool in which patients can rest their hands on their laps.  Attached to the inside and outside of the muff are lovely bits and bobs to play and 'fiddle' with… buttons, ribbons, bells, glittery pompoms and even small knitted toys.
Twiddlemuffs are very popular with patients with dementia, who often have agitated hands and are in need of some gentle, reassuring distraction. 
Staff knitters and local groups do an amazing job of keeping up supply, so that patients can have their own Twiddlemuff to take home with them at the end of their stay.
If you'd like to make a cosy comforter to cheer up a Southmead patient you can download: