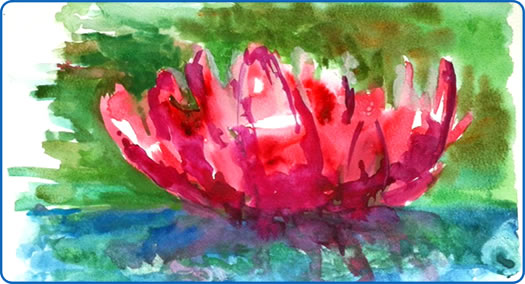 Over 38 sessions during 2016, our Make Your Mark artists supported 162 patients in complex care and Elgar House rehabilitation wards to enjoy visual art activities.
Make Your Mark offers elderly and dementia patients in Ward 1 of Elgar House at Southmead Hospital weekly visual arts activities in the ward, run by experienced community artist Rachel Davis and volunteer artist Lou Baker. 
This project grew from the insight that older and less mobile patients aren't always able to leave their beds/rooms unsupported.
This meant that some patients in single rooms were starting to feel bored and isolated without the activity, companionship and rhythm of multi-bed ward life to stimulate and occupy them. For patients with dementia this can be very unsettling.
Make Your Mark is a pleasurable and engaging way of alleviating that loneliness and boredom by bringing colourful arts activities right into the heart of their wards.
Each week, Rachel and Lou set up a fun range of arts materials in the dining room in Elgar. Patients and their visitors from across the ward are supported to come and join in, or for one of the artists to deliver activities one-to-one at the bedside.
People are encouraged to pick up brushes, try printing, look at famous works of art by well-known artists and have conversations about their enjoyment of art, nature, holidays and their lives.
Rachel and Lou give patients activities which allow for self-expression, decision-making and communication. Being in hospital can mean losing a degree of independence, and even self-confidence, so this is both beneficial and enjoyable for patients.
The painting and drawing helps to maintain and improve motor skills and is also a great conversation starter for staff, relatives and carers.
The staff team see a difference in patients after the sessions, with doctors and healthcare assistants noticing that the activities changed the mood of their patients or helped make them calmer and happier.
The Ward Manager surveyed the clinical team about how the visual arts activities benefitted patients and found two key results. The arts activities:
reduced patient distress
helped with communication
This boosts confidence, wellbeing and recovery for patients and supports the staff team in delivering the best possible care.
"This in turn benefited the medical staff in being able to provide the necessary care to patients.  For example, the confused patient on 17th June, who said she was no good at art, was encouraged to do some painting with one of the artists. She was so proud of what she did; for the next two days she spoke to staff saying what she did, and was so proud of her achievement."
The patients involved often also discover new talents or passions and are really proud of their achievements and artistic creations, with one patient commenting "I've surprised myself… I think I might start painting".
Mary's Story
Make Your Mark lead artist, Rachel, shared Mary's story with us. 
"The last patient, Mary, had come the previous week and really wanted to come again and have another go.  The last session had given her confidence.
She knew exactly what she wanted to do, a painting of the physiotherapist, Dawn. I helped draw an outline with her guidance and we discussed what colours she might use. 
After that she was away, totally engaged. She then painted another image of some apple trees in a garden from her imagination. She continued to develop her painting as she went on.
I chatted at length with Mary, who was really enjoying the session, about her experiences, colour, and painting.
The portrait of the physio she had done was actually of Dawn, she had given her a tiara as she said how special and like a princess she was. She also talked about how she had never done painting before."
Feedback
After one of my patients attended, the art work done, it helped me to break the ice with the patient who liked painting.  It jogged some memories!
Nurse