The landmarks commission is a series of five bronze sculptures of animals with various ailments by Laura Ford. They are situated in key zones of the Southmead Hospital Bristol site, providing a landmark for patients and visitors, enabling them to find their way around the site much easier.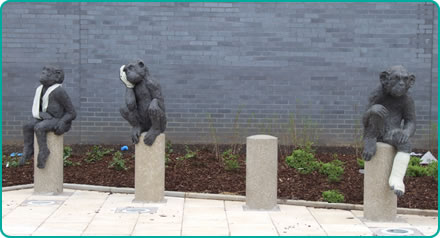 This commission aimed to:
Entice and draw people through the Southmead Hospital Bristol site along key routes to the main and A&E entrances of the Brunel building
Contribute to an identity of Southmead Hospital Bristol, becoming iconic for North Bristol NHS Trust
Be bold and fun
Be welcoming  to patients, staff and visitors
Each sculpture is cast in bronze from a rubber mould created from an original model and is made using welded steel armatures, plaster, scrim and modelling wax. The models are made in Laura's studio in London, the mould-making and bronze casting at Castle Fine Art Bronze Foundry in Oswestry and the patination and finishing of the bronzes at Castle's premises in Stroud. Laura oversees each stage of the process.  
To date, the models of lion and the monkey group have been completed. The other models, elephant, bear and dog will be created over the next 18 months.
The installation will be in stages, to coincide with the staged completion of the landscape and will be undertaken by Castle Foundry with Laura involving the use of a crane mounted on a lorry to position the bronzes.
About the Artist – Laura Ford
Laura Ford is a Welsh artist and sculptor. She was born in Cardiff, Wales in 1961 into a family of Welsh showmen who travelled the fairgrounds of Wales and South West England. 
She studied at Bath Academy of Art (1978–82) which included a term of study at the Cooper Union School of Art in New York City. She completed a Master's degree at the Chelsea School of Art (1982–83).  She has shown her work at over 20 different solo venues and over 45 group exhibitions. She lives and works in London.