The fifth and sixth series of popular documentary One Born Every Minute were filmed in the maternity department at Southmead Hospital Bristol during 2013.
The episodes, capturing births in the West Country's busiest maternity unit, were first screened in February and June 2014.
The series featured mums, dads and staff as new babies were welcomed at the Southmead Hospital unit, which is run by North Bristol NHS Trust. 
Independent television production company Dragonfly captured the powerful stories and births using 40 remotely-operated cameras, filming 24 hours a day over 11 weeks.
Footage was captured from the reception desk to the neonatal ward; from the operating theatre to the birthing pool and featured the dramatic, emotional and often funny moments that go hand in hand with bringing a new life into the world, from the perspective of the soon-to-be parents and family, as well as the hospital staff.
The series also showed the work of the community midwives in delivering a baby at a family home.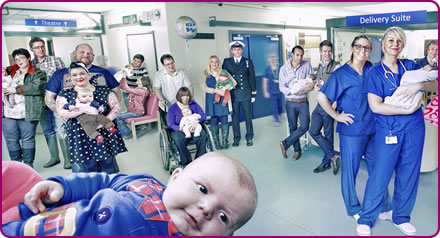 Director of midwifery at North Bristol NHS Trust, Ann Remmers, said: "The team at Southmead really enjoyed being part of the popular programme.
"We are very proud about the way every member of the team came across in the episodes of One Born Every Minute showing their caring and professional attitude and skills.
"Birth is a life changing event and we think the programme has managed to capture this special time for families very well. We would like to thank all the women and their families and staff who were involved in One Born Every Minute."
Amy Joyce, producer of the fifth series of One Born Every Minute, said: "It was such a privilege to be a part of so many amazing birth stories at Southmead Hospital. Our heartfelt thanks to all the wonderful parents and fantastic staff for letting us into their lives."
North Bristol NHS Trust provides a full range of maternity care, both in the community and in hospital, to women within Bristol, North Somerset and South Gloucestershire, at Southmead Hospital and Cossham Birth Centre.
More than 6,000 babies are born with the service a year and their dedicated midwives, doctors, maternity/healthcare assistants and support staff are committed to giving personalised care of the highest standard.
Clips accompanying the two series filmed at Southmead Hospital can still be viewed on the Channel 4 website.