10 years of Baby Friendly status at Southmead
10 years of Baby Friendly status at Southmead
Wednesday, 17 June 2015
Southmead Hospital Bristol is celebrating 10 years of Baby Friendly status this week.
The prestigious accolade from UNICEF is given to organisations for encouraging breastfeeding, promoting the health benefits of breast milk and providing support and advice for new mums.
Southmead was one of the largest maternity units in the country to receive the award back in 2005.
It was followed by St Michael's (run by University Hospitals Bristol NHS Foundation Trust) in 2007 and, the then, NHS Bristol, in 2010 which all led to Bristol becoming the country's first Baby Friendly city.
Successful reaccreditations for Southmead followed in 2007 and 2011 and the unit will be assessed again in September this year.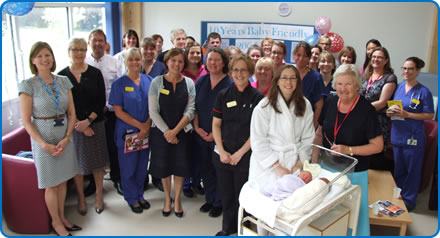 Marion Copeland, Infant Feeding Midwife at Southmead, said: "North Bristol NHS Trust's maternity services are very proud to be celebrating 10 years of Baby Friendly accreditation.
"Our maternity and neonatal staff are dedicated to providing mothers and their new babies with the best possible start.
"We are also very proud to be part of Bristol; the first baby friendly city. We work very closely with all services across Bristol to provide breastfeeding support for all mothers and babies."
All midwives, maternity care assistants and health visiting teams are fully trained to support new mums with breast feeding and the Trust's breastfeeding initiation rate has increased to 80 percent over the last 10 years.
The rate of breastfeeding in Bristol for babies six to eight weeks has increased to almost 60 percent – which is higher than the national average.
Sue Ashmore, Programme Director - UNICEF UK Baby Friendly Initiative, said: "I would like to offer heartfelt congratulations on the achievement of this important milestone: ten years as a Baby Friendly hospital; ten years of certified standards of care for mothers and babies; ten years of the best support for breastfeeding.
"Southmead has long been a pioneer in the implementation of the Baby Friendly standards – when first accredited in 2005. Regular reassessments have demonstrated that these high standards of care have continued, with Baby Friendly care now the 'norm' in this unit.  
"We can be confident that mothers and their babies are ensured full support to help them get feeding off to the best possible start, and that this care continues when they are back home."
The UK Baby Friendly Initiative is based on a global accreditation programme of UNICEF and the World Health Organization. It is designed to support breastfeeding and parent infant relationships by working with public services to improve standards of care.
Breastfeeding reduces the risk of babies becoming ill. It is also associated with a reduced risk of later childhood disease and protects the mother's health. It has been suggested that the lower incidence of illness associated with higher breastfeeding rates could also lead to significant cost savings in the treatment of illnesses such as gastro-enteritis.
The UNICEF UK Baby Friendly Initiative provides a framework for the implementation of best practice by NHS trusts, other health care facilities and higher education institutions, with the aim of ensuring that all parents make informed decisions about feeding their babies and are supported in their chosen feeding method. Facilities and institutions that meet the required standards can be assessed and accredited as Baby Friendly. 
Implementing Baby Friendly standards is a proven way of increasing breastfeeding rates. It also means health professionals can give mothers the support, information and encouragement they need.