1,000th baby born at Cossham Birth Centre
1,000th baby born at Cossham Birth Centre
Tuesday, 2 June 2015
Cossham Birth Centre has delivered its 1,000th baby since opening in January 2013.
Daniel Iosivan was born on April 14.           
His parents Crinela Iosivan (29) and Lucian Bota (28) from Eastville joined other Cossham babies, mum and dads and staff at the centre today for a special celebration party. Daniel is their first child.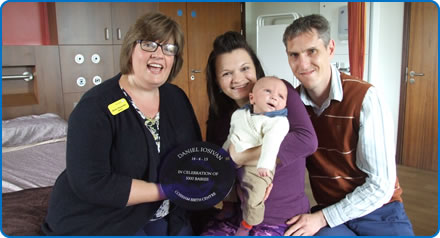 Crinela said: "Cossham was recommended to me by my midwife as I had an uncomplicated pregnancy.
"When I visited the centre I was really amazed. The facilities are lovely and spacious and the rooms feel comfortable and secure.
"The team who looked after me here were just brilliant – so encouraging and supportive."
As a special souvenir for the occasion, Daniel was presented with a commemorative Bristol Blue plaque.
Cossham Birth Centre opened in January 2013 and was the first midwife-led birth centre in the local area. In total 1,062 babies have been born there.
The centre, on the top floor of the refurbished Cossham Hospital in Kingswood, offers four birthing rooms complete with birthing pools and double beds.
Gina Augarde, Birth Centre Lead for North Bristol NHS Trust: "We are delighted to welcome everyone back to the unit today. Since opening we have really gone from strength to strength. Congratulations to Crinela and Lucian and thanks to all our fantastic midwives."
The centre was described as "outstanding" by the Care Quality Commission in its report published in February 2015.
Also joining the celebrations were Laura Ritter and Stanley (who was the first baby born at Cossham), Kirsty Hutchinson and Oscar (the 100th baby), Alison Coward and Felicity (the 300th baby), Kelly Adams and Brooke (the 400th baby), Lisa Marie Poole and Lionel (the 600th baby) and Lucy Graffagnino and Lola (the 900th baby).