$1.1 million donation for pioneering stem cell MS trial
$1.1 million donation for pioneering stem cell MS trial
Wednesday, 1 June 2011
Multiple Sclerosis (MS) research at Frenchay Hospital has been awarded a $1.1 million donation to continue a pioneering bone marrow stem cell trial.
The project has already been shown to have possible benefits for the treatment of the disease.
Now the grant, donated by American benefactor, The Kenneth and Claudia Silverman Family Foundation to the University of Bristol and North Bristol NHS Trust, will fund a phase II clinical trial of bone marrow cellular therapy in MS patients.
Bone marrow stem cells have been shown in several experimental laboratory studies to have beneficial effects in disease models of MS.  Bone marrow is known to contain stem cells capable of repairing many types of tissue and organ damage - and so is of great interest to those working to develop new treatments for many diseases, including those affecting the nervous system.
The research team is based at the Burden Centre at Frenchay Hospital and is led by Neil Scolding, Burden Professor of Clinical Neurosciences at the University of Bristol and North Bristol NHS Trust.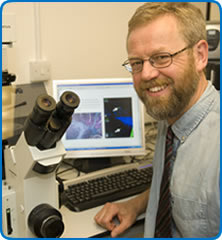 They have already carried out a phase I trial into the safety and feasibility of the therapy to establish what effects, good or bad, bone marrow stem cells have on patients with MS, and their disability. 
Following encouraging results, the team now plans to conduct a larger phase II trial to test and assess the effectiveness of the therapy.
Professor Scolding said: "MS is the most common disabling neurological condition affecting young adults.
"Thanks to this generous donation from The Kenneth and Claudia Silverman Family Foundation, we are able to take a major step forward in our research to try and find a treatment for this disease, through this trial which we hope will commence later this year."
The Bristol team published an online article on the phase I trial in May last year in Clinical Pharmacology and Therapeutics. 
The paper3, Safety and feasibility of autologous bone marrow cellular therapy in relapsing-progressive multiple sclerosis was performed at the University of Bristol's Institute of Clinical Neurosciences, Frenchay Hospital, Bristol and the Bristol Haematology and Oncology Centre. 
Participants had a general anaesthetic during which bone marrow was harvested. 
The marrow cells were filtered and prepared so that they could be injected into the patient's vein later the same day.
The procedure was well tolerated and the participants were followed up for a year. 
No serious adverse effects were encountered. 
The results of clinical scores were consistent with stable disease. 
The results of neurophysiological tests raised the possibility of benefit.
Professor Scolding added: "Research into the underlying mechanisms is ongoing and vital, in order to build on these results. 
"We believe that stem cells mobilised from the marrow to the blood are responsible, and that they help improve disease in several ways, including neuroprotection and immune modulation."