A Celebration of Health
A Celebration of Health
Wednesday, 12 October 2016
A Clevedon man has celebrated his wife's cancer remission by painting a stunning scene of the Brunel building at Southmead; the hospital where she was treated.
Steve Smith's wife Sandy was diagnosed with bowel cancer in 2007. Following her diagnosis, Sandy, then aged 55, endured months of chemotherapy, radiotherapy and numerous operations.
Sandy had a surveillance colonoscopy in 2010. It was early days but the couple, who have been married for 42 years, remained positive.
This summer, Sandy had her five-year surveillance colonoscopy, and the couple received the news they'd been longing for - it was all clear.
Steve said: "The five-year colonoscopy was a cause of celebration as it well and truly confirmed that, in our minds, cancer was consigned to the past."
"To celebrate this I painted the watercolour; an explosion of colour called 'A Celebration of Health', to celebrate and mark her good news. It will always be a reminder to me of the wonderful news of my wife's good health after her battle. Looking at it just cheers my heart."
Steve praised the team at Southmead: "My wife and I felt very secure in the care that was received at Southmead; we found the staff very attentive and reassuring. The staff explained everything very clearly and results were brought to my wife quickly. I personally enjoyed the quietness of the garden."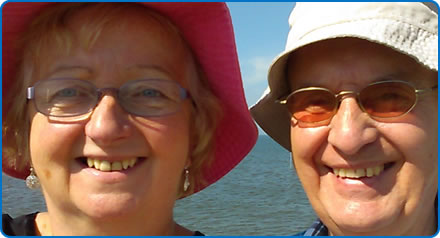 The team at Southmead Hospital Charity are considering whether the painting could be used as the cover of charity card.  
Sue Jones, Director of Nursing at North Bristol NHS Trust, said: "We are always pleased to hear feedback from patients and their families, and it's wonderful to see how inspired they are by our beautiful Brunel building. We thank Steve for sharing this with us; it's a lovely piece of art."