A heartfelt gift for NICU mums this Mother's Day
A heartfelt gift for NICU mums this Mother's Day
Friday, 13 March 2015
Makey Mamas, a group which runs creative workshops for pregnant women and new mums across Bristol, has presented every mum at Southmead Hospital's Neonatal Intensive Care Unit (NICU) with a crocheted heart for Mother's Day.
This is the second time this year the group has supported Southmead's NICU. In January its members ran a 'mini bootie trail' across the city – 20 pairs of which were presented to the unit afterwards.
Following this, mum, NICU volunteer, and Bliss Champion, Catherine Miles, got in touch and asked Makey Mamas to crochet little hearts for all the mums on the ward for Mother's Day.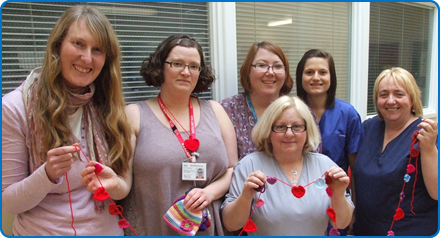 This request went out to the community of Makey Mamas and the hearts came flying in!
Originally aiming for 34 (one for each cot in Southmead), the response was so great that the goalposts shifted and group has provided a Mother's Day heart for every mum in the neonatal wards across the region - 285 in all.
Catherine said: "From one quick message to Makey Mamas to this- I am truly overwhelmed and so thankful to everyone who has crocheted heart. 
"A heart received by a mother spending this Mother's Day on the neonatal unit with their baby will be a lovely keepsake to let them know they are loved and thought of on that special day.
"My son was born at Southmead at 26 weeks, I had left the neonatal unit but my first Mother's Day with my son was spent in the Bristol Children's Hospital. I received a card and posy of flowers but a heart to put in our keepsake box would have meant a lot."
Misty Tunks who runs Makey Mamas said: "I'm so happy that the Bristol community of Makey Mamas could do a little something to support fellow Mums during their difficult time."