Accordionist Jamie Smith will be bringing some lively music to wards and waiting areas during January
Accordionist Jamie Smith will be bringing some lively music to wards and waiting areas during January
Wednesday, 12 January 2011
Accordionist Jamie Smith will be bringing some lively music to wards and waiting areas across NBT during January; you are welcome to join us in any of the public waiting areas!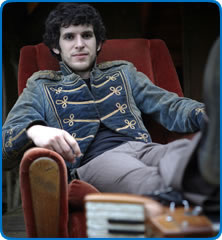 Tuesday 18th January 2011 at Southmead Hospital:
1pm - Out Patients 3 waiting area
2pm - T Ward (not publicly accessible)
3pm - Elgar House (not publicly accessible)
Wednesday 19th January 2011 at Frenchay Hospital:
1pm - Day hospital sitting room
2pm - General Out Patients waiting area
3pm - Barbara Russell Children's Unit (not publicly accessible)
Jamie Smith is one of the UK's finest accordionists and writers of new acoustic music. He is a folk musician who specialises in the music of the Celts, unearthing and presenting tunes and songs rarely heard, from places as diverse as the Isle of Man and Galicia in northern Spain.
Jamie fronts the international Celtic band Mabon, performing all over the world at grand outdoor spectaculars in France, folk festivals in the UK, to delirious allcomers in Mexico, in forest parks in Italy, waterfront shows  in Australia and castles in Poland.
In his solo concert performances Jamie performs a diverse selection of traditional and original folk songs and instrumentals, showcasing his talents as both a versatile musician and an exciting singer-songwriter.