Apprentices honoured in graduation ceremony
Apprentices honoured in graduation ceremony
Monday, 6 March 2017
Our apprentices have been honoured at the Learning and Development team's 16th awards ceremony.
Today we celebrated the efforts of over 140 learners who have undertaken a wide range of qualifications in the last six months, as part of our recognition of National Apprenticeship Week.
The event was held to showcase the hard work and dedication our learners put into completing their qualifications, as well as the contribution they make to supporting high-quality healthcare.
From achievements in healthcare, housekeeping and business administration programmes, the bi-annual event recognised the apprentices' commitment as well as the support they have received from their friends, families and colleagues.
The graduating apprentices were joined by relatives, colleagues and trainers to celebrate their success. Those that could not attend were acknowledged with a Roll of Honour which was displayed during the ceremony.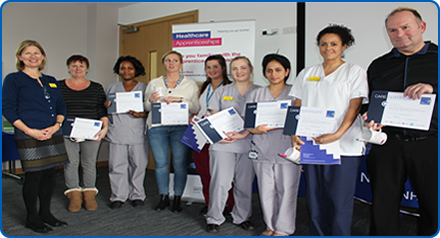 Among the graduates was Emma Champagnie who completed a Level 2 qualification in Business Administration. Emma said: "This apprenticeship has been amazing; as a mum of two it got me back to work and has prepared me for my future career. The team are so supportive; I couldn't have done it without them!"
Chief Executive Andrea Young awarded the certificates to the graduating apprentices and in her address said: "It's a wonderful display of commitment to your personal development and future career path. You should be really proud of yourselves; we are."
Yvonne Greenwood, Practice Development Teacher, said: "We are proud to honour and celebrate the achievements of our apprentices. These qualifications are quite tough and the graduation ceremony is our chance to take our hats off to our apprentices and help them celebrate as part of their onward journey."
Every year, we have over 300 learners taking part in some vocational study and over 140 learners were invited to today's presentations.
A number of different programmes were represented today including: Pre-Employment programmes, NBT Care Certificate, Intermediate Apprenticeship, Advanced Apprenticeship, Higher Apprenticeship, Diploma qualifications and in house competencies.
These programmes support learners in a wide variety of roles from housekeepers to healthcare support workers, administrators to finance and payroll clerks.