August's NBT Heroes celebrated by Chief Executive
August's NBT Heroes celebrated by Chief Executive
Friday, 10 August 2018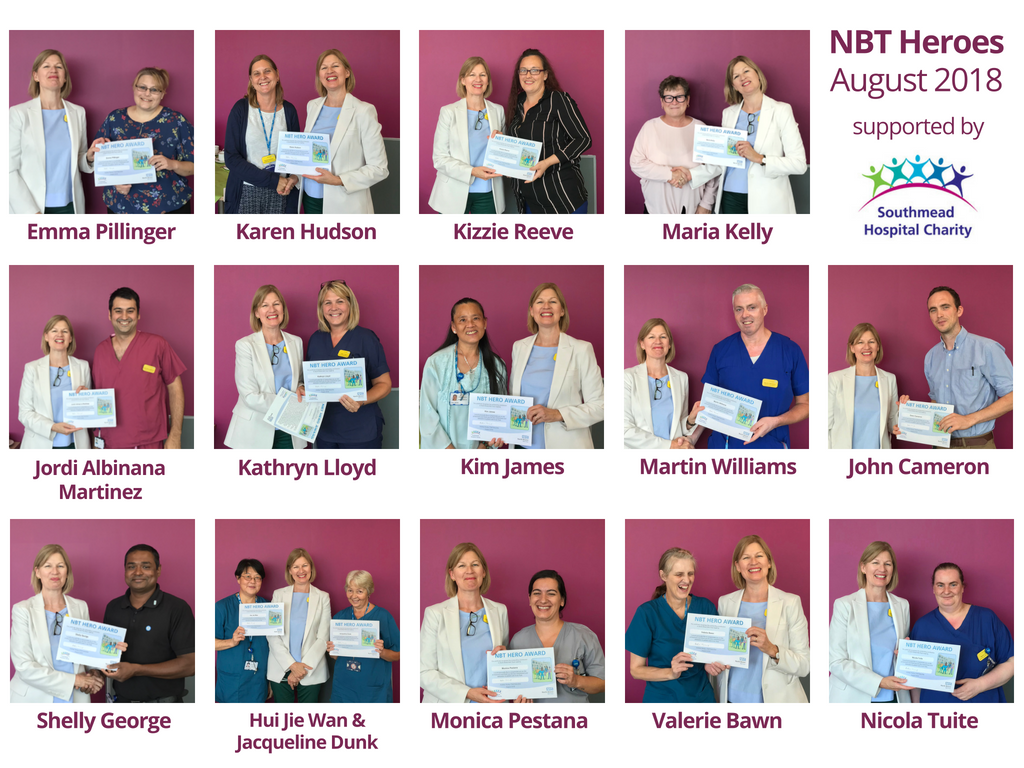 On Friday 10 August, we celebrated the latest winners of our quarterly NBT Hero Awards. Whether it's showing exceptional compassion with a patient, or simply coming into work every day with a smile and a "yes we can" attitude, the awards are a great way for staff to celebrate each other. The winners are invited to an afternoon tea provided by Southmead Hospital Charity and the Catering Team, where they are presented with certificates by Chief Executive, Andrea Young.
Read what their colleagues have said about them below:
Emma Pillinger – Senior HCA, Medical Day Care Unit
Despite sometimes struggling with her own health and personal issues, Emma remains kind, caring and supportive of her fellow staff members. She is always the first to comfort anyone else in the team if they need it.
Karen Hudson – System Implementation Specialist, IT Services
Also receiving two nominations, Karen was praised by colleagues for her constant perseverance in making sure that the Trust was ready for the roll out of eRS (electronic Referral System). This is a national change which will impact on both staff and patients, and Karen's determination to get it right has made life easier for so many.
Kizzie Reeve – Domestic, Gate 8B
Kizzie was nominated by a patient on 8B for being polite, caring, friendly and upbeat. Her constant optimisim make the ward a nicer place to be, for both patients and staff.
Maria Kelly – Domestic, Data Centre
The team in our Data Centre emailed Maria's Duty Manager to express their gratitude to Maria, who works so hard in keeping the building clean and tidy. She often goes out of her way to make it a pleasant place to work, and always arrives at work with a smile.
Jordi Albinana Martinez – Clinical Co-ordinator, Theatres
Nominated by the Divisional Manager for the Neuro and Muskuloskeletal division, Jordi has helped orthopaedic theatres consistently achieve over 98% compliance - the best in the entire Trust theatre complex. Despite working for the Anaesthesia, Renal and Critical Care division, he is considered an honorary member of the NMSK team.
Kathryn Lloyd – Ward Sister, Cotswold Maternity Ward
A particularly emotional nomination, Kathryn received exceptional commendation for the exemplary care she provided to a patient and his wife who had recently received upsetting news. Helping them understand their options and feel slightly more in control, Kathryn is a prime example of how important empathy and compassion are to being an amazing member of staff.
Kim James – Housekeeper, Gate 7A
Kim was nominated by two of her colleagues on 7A, who were both amazed by her hard work and dedication to keeping the ward spotlessly clean. She is also kind and thoughtful to any patients and their families that she comes across, ensuring that their meals arrive hot and on time.
Martin Williams – Staff Nurse, Gate 8A
Nominated by the Hospital at Night team, Martin is highly valued for his kindness and excellent clinical skills. Usually based on 8A, Martin provides constant support to the team, offering advice and guidance particularly to more junior staff. His influence can also be seen during bank shifts on other wards!
Ewen Cameron (John) – ST4 Doctor, Gate 8B
Also nominated by a patient, John is considered a "star" on 8B. The patient said that he was an "asset to the hospital, and to the ward" and his polite manner and wonderful attitude have clearly not gone unnoticed.
Shelly George – Ward Operative, Gate 8B
Shelly was nominated by previous NBT Hero Jimmy Reeves for his attention to detail and infectious smile. With Shelly on the ward at lunch and dinnertime, it's easy to see why 8B produces so many happy heroes!
Hui Jie Wan (Marie) & Jacqueline Dunk – Domestics, Gate 6B
Marie and Jacqueline received mention and praise from a patient for their hard work and contribution to their care. Marie and Jacqueline have demonstrated commitment to the values of putting the patient first, working well together and striving for excellence.
Monica Pestana – HCA, Gate 12 Outpatients
Working in a busy outpatients department can have its challenges, but Monica always has a smile on her face and works hard to ensure that patients have the best possible experience. In addition to this, she works hard to support her colleagues, making Gate 12 a more enjoyable place to work.
Valerie Bawn – Domestic, Brunel Building
Valerie has worked for the Trust for more than 25 years across Blackberry Hill, Frenchay and Southmead Hospitals. Throughout her time here she has been dedicated to keeping our hospitals clean and safe, as well as making sure that the domestic team always have the equipment they need to maintain the high standards they strive for.
Nicola Tuite – HCA, Level 1 Theatres
Nicola is the voice and face of level 1 theatres. She is always ready to help and teach other members of staff how to admit and discharge patients, and is the go-to person in minor operations. From the theatre team to the surgeons, she is always there to help.
Maureen Hicks – Medical Secretary, Orthopaedics
Maureen's positive attitude and gentle character have not gone unnoticed. She was nominated after she went out of her way to arrange a meeting between a recently bereaved wife and the consultant who had cared for her husband. The level of thoughtfulness shown by Maureen in organising this meeting is a great example of our staff going the extra mile to provide excellent care for our patients and their families.
Lois Perrett – Purchasing Specialist, Bristol & Weston NHS Purchasing Consortium
Lois' ongoing contribution to assisting the Capital Planning team at NBT with their equipment needs has earned her the gratitude of one of her colleagues. She is always polite, friendly and helpful, making life easier for the people she works with.
Dawn Gane – Enhanced Recovery Nurse, ERAS team
Dawn is a nurse with a proven track record of going the extra mile for her patients. She is in charge of the Enhanced Recovery After Surgery team, and despite only working part-time, Dawn regularly stays late to ensure her patients at home are safe and feel supported.
Ben Pope – Workforce Planning Manager
Ben is always helpful, if he says he will do something then he does it, and if anyone has questions, Ben is able to clarify. His support to the Project Management Office has been invaluable, making sure that they have the information they need in a helpful format.
Michelle Brown – Domestic, Gate 25B
2 patients got in touch with Michelle's duty manager to sing her praises. They said that Michelle does a fantastic job, is ever so polite and always makes the effort to speak with them. This is a fine example of Michelle's understanding that every team member contributes to the wellbeing of the patient.
Congratulations to all!