Biomedical Science Day - our scientists share what they do
Biomedical Science Day - our scientists share what they do
Thursday, 19 July 2018
Staff from the Severn Pathology Laboratories at Southmead Hospital are sharing information about their work as part of Biomedical Science Day.
The theme of the day was to celebrate the diverse roles within Biomedical Science and how the diagnosis and treatment of patients.
Biomedical scientists work with their colleagues to test more than 10,000 samples a day in the labs at Southmead Hospital and it is estimated that pathology investigations are involved in 70-80% of all healthcare decisions about diagnosis and treatment.
At North Bristol NHS Trust our biomedical scientists are involved in testing to support the Emergency Department, blood transfusions , kidney transplants, cancer diagnosis and monitoring and screening programmes and many other areas.
Some of our biomedical scientists share what they do:
Cosima Mutton
"The best thing about my job is the people I work with. We are a committed team and focus on the best outcome for the patient 24/7 and support each other in what we do. I'm currently working in the urgent section, where we provide results for acute departments like our emergency department, intensive care and neonatal units within an hour.
"It can be intense as it gets very busy, but it's worth it knowing you are making a difference."
Mercy Simon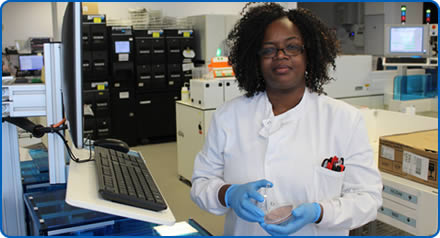 "As a Biomedical Scientist in Microbiology I get to investigate and test samples for bacterial diseases and parasites. In these investigations it builds up like a puzzle allowing you to use the clinical detail and the knowledge that you have to come up with the cause of illness. This also opens a door into antimicrobial/ antibiotic testing that allows treatment of patients with correct antibiotics.
"Although we are in the background, the best thing about being a Biomedical Scientist in microbiology is I love being able to aid patient care pathway without the direct contact."
Mia Hughes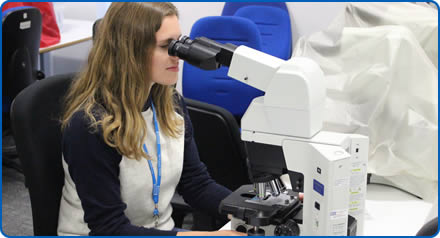 "Though we have very little contact with patients directly – we know our analysis of specimens is crucial in all sorts of patient health outcomes. Be that through increased monitoring of a patient to avoid conditions (i.e. screening) or directly diagnosing conditions such as cancer, patients benefit from the efficient and accurate investigation of samples that goes on here.
"We're making a difference by catching cervical pre-cancer and making sure women can be treated as early as possible."