Blog: Have a happy and healthy Easter
Blog: Have a happy and healthy Easter
Thursday, 13 April 2017
An Easter message from our Director of Nursing, Sue Jones:
With the long Easter weekend ahead of us there is plenty to look forward to. I'm sure you'll be getting ready to enjoy some chocolate, spend some time with family and friends and hopefully make the most of some sunshine.
Whether you'll be working in the garden, doing some DIY or taking part in outdoor activities we want you to take care to do it safely so that you don't end up having to pay us a visit in the Emergency Department.
Hospitals tend to be busy over Bank Holiday weekends when people are out and about enjoying themselves and sometimes suffer accidents. We know that you might not be sure of the best place to turn for healthcare advice if you injure yourself or become unwell over the long weekend and that coming to the Emergency Department might be the easiest thing to do.
There are other options, and using them may mean you are seen quicker and are able to carry on enjoying your Easter weekend sooner than if you come to the Emergency Department with a problem that is not an emergency.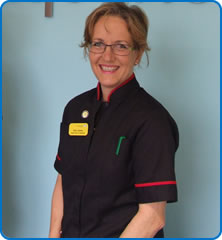 The Emergency Department is for just that – emergencies and serious life-threatening illnesses and injuries. We have a minor injuries section in our department for children and adults if you hurt yourself over the weekend and need treatment, but for general ongoing health needs, or a long-standing complaint or injury your GP surgery is the most appropriate service.
During the Bank Holiday your pharmacist can give advice about minor health complaints, there are pharmacies in the area open throughout the weekend. Or, you can contact NHS 111 for health advice. They will be able to give you advice and if you need to see an Out of Hours GP they can make an appointment for you. If they think the Emergency Department is the best place for you to receive health advice they will let you know.
Our Emergency Department is prepared for busy times and the team want to help you. But if you do not need their care and could be seen elsewhere you may well be redirected to a more appropriate service. Please help them to focus their attention on the people who really need their expertise by only attending if your needs are urgent or a genuine emergency.
We will be running services throughout our hospitals across the weekend and will be working with our partners to support the discharge of patients so that they can spend Easter with their families. But if you could help your friend, relative, or person you care for leave hospital sooner when they are well enough by giving them a lift home from hospital or supporting them for a few days while a package of care is being prepared please let the nurse in charge of the ward know.
Have a happy and healthy Easter everyone.
Sue Jones, Director of Nursing and Quality