Books of remembrance presented to hospitals
Books of remembrance presented to hospitals
Tuesday, 10 June 2014
Beautiful bound books of remembrance for babies have been presented to the chaplaincy teams at Southmead and St Michael's hospitals by the Bristol branch of the stillbirth and neonatal death charity SANDS.
At Southmead the books are placed in the new Sanctuary at the heart of the Brunel building. This is a multi-faith space where patients, staff and visitors can come at any time to reflect and remember.
The Rev Stephen Oram, Chaplaincy Team Leader for both Bristol NHS trusts, said: "Books of remembrance for babies have been in place at both hospitals since the 1980s. It's somewhere for families to come on anniversaries to reflect on their loss and to have a permanent reminder of their baby is very important for them.
"SANDS have provided three books for each hospital which will last us many years. We're very grateful to them for their continued support."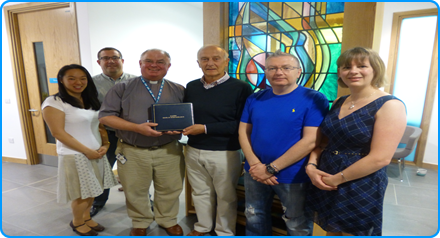 Gordon Comley, Treasurer of the Bristol branch of SANDS, said: "It's great to be able to help keep the tradition of remembrance going. The Sanctuary really is a beautiful place."
SANDS supporters gathered at Southmead on Friday for the formal hand-over of the books to the hospital. Hilary Sturgeon, Reg Coombs and Helen and Nigel Dilling, all from Bristol, have all experienced first-hand the loss of a baby.
Hilary Surgeon lost her baby five years ago. She said: "Writing down their details in a book of remembrance is often the only permanent written reminder for families who have suffered a loss."
Helen Dilling lost her baby Sophie when she was 23 weeks into her pregnancy. She said: "The support we received from the chaplaincy team here at Southmead was brilliant. Our chaplain was amazing and made such a difference to us both."
Reg Coombs said: "We lost our daughter in 2012 around 30 weeks into the pregnancy. It's important to have somewhere in the hospitals to reflect and remember."
SANDS holds two memorial services each year in Bristol in May and December to which parents can attend and remember their babies. The books are gathered from each hospital and taken to the services and put on display.
The Rev Stephen Oram, Chaplaincy Team Leader for both NHS trusts in Bristol, said: "Both Trusts have a long relationship with SANDS and we are really grateful for their support in providing these books which will last us many years.
"At Southmead, the books which record babies that have been stillborn or have died shortly after birth are placed in our new sanctuary – a multi-faith space which has been sensitively designed as a place people can come for quiet contemplation and reflection."
For more information about SANDS visit www.bristolsands.org.