Bride and groom run 13 miles for Southmead Hospital ahead of their wedding
Bride and groom run 13 miles for Southmead Hospital ahead of their wedding
Tuesday, 23 September 2014
A bride and groom counting down the days until their wedding tackled Bristol's half marathon in support of Southmead Hospital.
Dominic Harris and his fiancée Rachel Cosgrove prepared for their big day by pounding the streets in wedding-themed running gear. The groom wore a top hat and T-shirt printed with a suit, carnation and bow tie, while the bride-to-be wore a white dress and completed the look with a veil.
The Bristol Half Marathon was the thirteenth – and final - challenge the couple undertook as part of more than a year of fundraising for Supporting Southmead Hospital just 13 days before they tie the knot.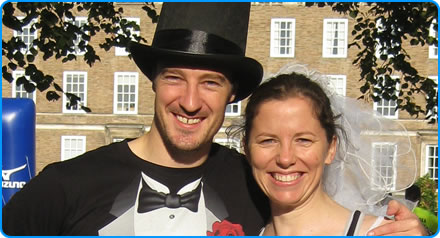 The charity was chosen after Dominic's dad Dennis benefited from care at Southmead Hospital Bristol, having suffered about 12 heart attacks in 21 years.
Raising money for the cardiac unit at Southmead was Dominic's way of giving something back and saying thank-you for the care that his father received at the hospital.
He said: "It was a long time coming, but the Bristol Half Marathon was our thirteenth and final challenge to raise money for Southmead Hospital's cardiac units.
"Dad was treated there for so many years and always had such excellent care from the doctors and nurses, and we'd wanted to do something to say thanks for a long time."
The couple started out in Jaunary 2013 but fundraising stalled when his dad died of cancer last September, shortly after they had run the Bristol Half Marathon.
After a break of a few months away from fundraising they returned to the challenges in memory of Mr Harris, rounding off with Sunday's half marathon.
The other challenges were:
The Iceman
Forest of Dean Marathon
Bristol 10k
Eton Dorney Triathlon
The Three Peaks
Bristol to Paris Bike Ride
The Thunder Run
Coast to Coast Trek across Hadrian's Wall
Brathay Windermere Marathon
Tough Mudder
Kayaking the River Wye
They have now raised almost £5,500 through their efforts, which has been used to purchase chairs and a portable piece of heart-scanning equipment.
Dominic said: "I'd always joked that our last challenge would be getting married, and the Bristol half marathon was just 13 days before our wedding day, so we decided to run as bride and groom.
"The reaction from the crowds was amazing - we've never had so many people cheering for us and shouting their congratulations during a race, and it really spurred us on when we were flagging a bit towards the end.
"My mum, Elf, and Rachel's parents Ray and Barbara - who have come over from New Zealand for the wedding - were cheering us on and to see them waving and shouting gave us a real boost when we got to the end.
"It was quite emotional when we crossed the finish line, and I did think back to all the tough times we've had over the last year, especially this time a year ago when mum and I were caring for dad at home in his final days.
"It was tough to think that he couldn't be there to see us finish it, but I hope he'd be proud of what we've achieved in his name.
"Hopefully what we've done will go a very small way to ensuring other families in Bristol get the same great care and treatment that we did for so many years."
To find out more about Dominic and Rachel's fundraising visit www.helpinghearts2013.wordpress.com and to sponsor the couple visit www.justgiving.com/helpinghearts2013