Bristol Centre for Enablement celebrate Centenarian Constance's birthday
Bristol Centre for Enablement celebrate Centenarian Constance's birthday
Tuesday, 16 May 2017
The team at Bristol Centre for Enablement has helped one of its patients celebrate a landmark birthday.
Constance Hosker attended the Cribbs-Causeway-based centre for a routine appointment just days after celebrating her 100th birthday and the team were determined to help mark the occasion in style.
They presented the Centenarian with a cake, card and flowers when she arrived at the centre, with other patients joining in the festivities in the centre's reception area.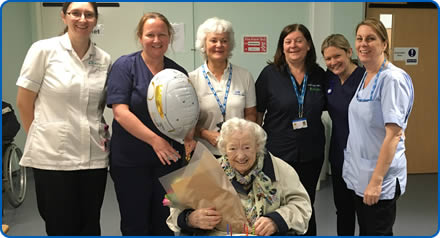 Clinical Manager for Prosthetics and Orthotics, Helen Harvey, said: "Our patients tend to visit us quite regularly here at Bristol Centre for Enablement so we build up good relationships with them over the years.
"When we realised Constance was visiting us just after her 100th birthday we wanted to make sure that we marked the occasion.
"Everyone in the reception joined us in helping Constance celebrate her birthday and it created quite a buzz around the centre.
"It was great that Constance also brought along her telegram and birthday card from the Queen so that other people who use the centre – and us staff – could take a look. We felt very proud to be able to celebrate with her."
The Bristol Centre for Enablement is run by North Bristol NHS Trust and incorporates Prosthetics and Orthotics, Wheelchair and Special Seating Services, Communication Aids and Electronic Assistive Technology, combining many aspects of rehabilitation in one location.