Burns Team give Bonfire Night advice
Burns Team give Bonfire Night advice
Tuesday, 1 November 2016
With Bonfire Night approaching the Burns Team at Southmead Hospital has some tips to help you make the most of the fireworks while minimising the chances of suffering any injuries.
In the weeks around November 5 about 1,000 people attend Emergency Departments across the UK with burns injuries.
North Bristol NHS Trust is a regional centre of excellence in plastic and reconstructive surgery and among its specialties is the treatment of burns.
Last year the Burns Team at Southmead Hospital saw patients with sparkler burns and other minor injuries around Bonfire Night and is urging people to consider advice to help them stay safe.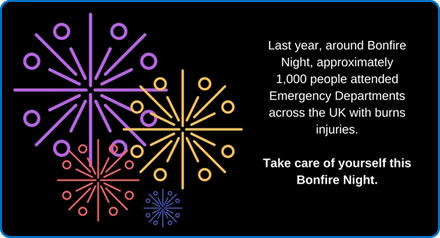 Lead Burns Consultant, Jon Pleat said that many of these injuries are avoidable if people follow some basic tips about handling fireworks.
And he also has tips for what to do if someone suffers a burn at a fireworks event.
Mr Pleat said: "Thankfully, by raising awareness, major injuries are becoming less common.  "However, in the weeks around Bonfire Night, we still see about 1,000 casualties who attend A&E across the UK. 
"Some of these injuries are life changing with blindness or permanent disfigurement. 
"Wherever possible, enjoy an organised display or if you do buy fireworks, follow the instructions and ensure that they carry a 'CE' mark or are marked 'BS 7114'."
Fireworks safety advice from The Royal Society for the Prevention of Accidents:
Plan your firework display to make it safe and enjoyable
Keep fireworks in a closed box and use them one at a time
Read and follow the instructions on each firework using a torch if necessary
Light the firework at arm's length with a taper and stand well back
Keep naked flames, including cigarettes, away from fireworks
Never return to a firework once it has been lit
Don't put fireworks in pockets and never throw them
Direct any rocket fireworks well away from spectators
Never use paraffin or petrol on a bonfire
Make sure that the fire is out and surroundings are made safe before leaving.
RoSPA advice for the use of sparklers
Do not give sparklers to under 5s
Wear gloves when holding sparklers
Hold sparklers at arms' length while being lit
Don't wave sparklers close to other people
Never hold a baby in your arms while holding a sparkler
When the sparkler has finished put it in a bucket of cold water.
Mr Pleat's tips if you witness a burn injury are:
If someone is on fire use the Stop, Drop and Roll method (Stop movement, Drop to the ground and Roll on the ground)
Apply running, cool tap water to the burnt area for 20 minutes
Remove clothing and jewellery from near or on the burn
Do not put any ointment or creams on the skin but instead, cover the area with cling film or sterile, non-fluffy dressings. 
During this time, keep the rest of the patient warm and seek assistance
Ring 111 for minor injuries and call 999 or attend the Emergency Department for more major burns
The Burns Team at Southmead Hospital work collaboratively with Avon Fire and Rescue Service.