Can you cook your breakfast on your hair straighteners?
Can you cook your breakfast on your hair straighteners?
Thursday, 14 June 2012
Hair straighteners have been used to cook a breakfast of eggs to highlight the dangers of the hot metal styling plates.
Some straighteners can reach temperatures of up to 230 degrees prompting the NHS in Bristol to launch a safety campaign with local charity Lifeskills.
In the past five years, Frenchay Hospital's South West Regional Paediatric Burns Service have treated around 110 children who have suffered burns caused by hair straighteners.
As a warm up for Child Safety Week which takes place between 18-24 June, NHS Bristol and Avonsafe staged alternative 'cooking class' – using hair straighteners to fry eggs - to demonstrate the hazard of hair straighteners.
With children's skin 15 times thinner than that of adults, the damage can potentially be life changing.
Caroline James, paediatric burns outreach nurse, at Frenchay Hospital, said these figures are the tip of the iceberg as many children with straightener burns are treated at home or in minor injury units.
"Young children can easily pick up or accidentally step on a hot pair of hair straighteners left on the floor and these burns can be quite deep, perhaps even cause permanent scarring.
"We have seen a number of these burns injuries at Frenchay Hospital's South West Regional Paediatric Burns Service but there are many more children who suffer these types of burns that do not require hospital treatment.
"We hope this special event will help to raise awareness amongst families of the potential risks of household appliances like hair straighteners."
Injury prevention manager at NHS Bristol Rob Benington said: "We know that many people own sets of hair straighteners but injuries and burns to children caused by straighteners are on the rise.
"The key safety messages we want to get across to those with hair straighteners is to switch hair straighteners off straight away after use, put them into a heat resistant pouch, put them away straight away and to never leave them lying around. 
"By following these tips, we hope that injuries to young children can be avoided and that the number of children visiting hospital with these types of burns reduces."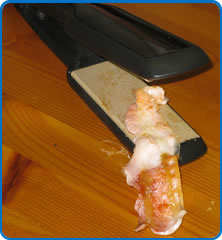 An open day is also being held at Lifeskills safety education centre, Smeaton Road, Hotwells, Bristol, on Saturday June 16 from 10am-1pm where families can find out more about safety awareness and injury prevention for young children. Attending the event will be:
Rob Benington, Injury Prevention Manager for NHS Bristol
Caroline James, Paediatric Burns Outreach Nurse, Frenchay Hospital
The British Red Cross who will be demonstrating first aid techniques
Fire safety with Avon Fire and Rescue
Driver safety with Avon & Somerset Police
As part of Child Safety Week, NHS Bristol will also be providing a limited number of hair straightener safety pouches for sale for £2 in some children's centres in Bristol.