Cancer Care Team at Southmead Hospital shortlisted for national award
Cancer Care Team at Southmead Hospital shortlisted for national award
Tuesday, 28 February 2017
A Cancer Care Team at Southmead Hospital has been shortlisted for a national award.
The colorectal cancer care team has been shortlisted in the 'The Cancer Care Team of the Year' category in the BMJ Awards; the UK's leading medical awards which recognise and celebrate the work of health teams across the country.
The shortlisting is for a project, developed in partnership with South Gloucestershire CCG, which significantly improves the time to diagnosis for colorectal cancer patients at Southmead Hospital.
The innovative digital referral system is for patients with suspected colorectal cancer.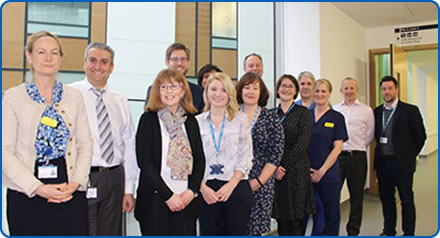 Instead of two week wait referrals being referred on a paper form and then referred onwards for tests, GPs can now refer for tests directly, allowing them to book the most appropriate test for their patient without any administrative delays. 
Following the introduction of the system the average time from referral to diagnosis has reduced to 11 days from 28 days, and we have improved our performance against national cancer targets. The project has received positive feedback from GPs and patients.
Anne Pullyblank, consultant colorectal surgeon, said: "This has been a true team effort from specialty areas within the Trust and GPs in South Gloucestershire. We have introduced something which delivers real benefit to patients, supporting them to receive their treatment earlier."
The team will present their projects to an expert judging panel next month, and the winners will be announced at a ceremony on 4 May in London.