Caroling staff spread Christmas cheer around Southmead Hospital
Caroling staff spread Christmas cheer around Southmead Hospital
Thursday, 22 December 2016
Southmead Hospital staff spread cheer around the wards by singing Christmas carols.
About 50 members of staff from across North Bristol NHS Trust, friends and relatives - many sporting festive outfits - made their way around the hospital singing to patients and clinicians on the wards.
There were doctors, nurses, pharmacy staff, administrative staff and volunteers as well as members of a choir.
The carols were led by Emergency Department Matron, Juliette Hughes, with Principal Pharmacist Jane Smith accompanying  the singers with her trumpet.
Carols around the wards was a tradition at Frenchay Hospital in the 80s and was started up again for the last Christmas before the hospital closed in May 2014. It has been continued every Christmas since the Brunel building opened.
Juliette said: "Carols around the wards dates back to Victorian times when nurses went around on Christmas Eve by candlelight. It was all very traditional and I love that.
"It was really lovely when we did it again for the last Christmas at Frenchay and lots of people came along so we decided we should carry it on, and this was our fourth year.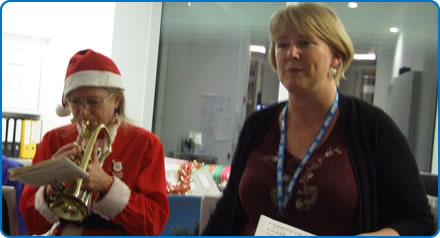 "It is lovely for the staff who get out around the hospital with people they wouldn't normally be with and I think they really gain something from it. It is also lovely for the staff on the wards we visit, but what also strikes me every year is the impact it has on the patients. There may be people who have dementia or are cognitively-impaired and as a result can be quite agitated, but when we started singing carols they calmed down and were joining in and singing along."