Celebration event held as staff prepare to bid farewell to Frenchay Hospital
Celebration event held as staff prepare to bid farewell to Frenchay Hospital
Friday, 9 May 2014
Hundreds of staff, local residents and retirees said goodbye to Frenchay Hospital at a celebration event held on Thursday 8 May.
The event was held in the Redwood restaurant and featured a live band playing 40s and 50s favourites, a fascinating exhibition of photos, old medical instruments and memorabilia from the hospital's long and distinguished history, some excellent food and refreshments as well as a nurse recruitment film made at Frenchay in 1959.
As part of the celebration, a time capsule was buried in the hospital grounds, preserving a selection of books, photos, messages and artefacts for future generations to discover. Children from Frenchay C of E Primary School and Gloucestershire County Cricket Club players Will Tavare and Craig Miles helped with the burial on the edge of the hospital cricket pitch, with the intention that it will be uncovered in 50 years' time.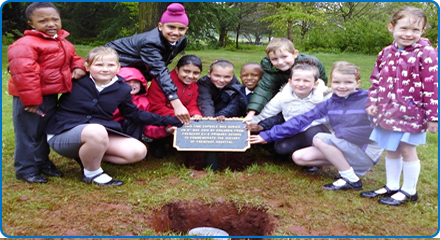 In addition, staff had the opportunity to enter a Frenchay in Springtime photo competition – and scores of them did just that. The winning entry was snapped by Wendy Rayner of Radiology whose picture of a blossom tree captured the essence of Frenchay during the Spring.
Harry Hayer, Director of Organisation, People and Performance said: 'The event was a fitting farewell to decades of providing exceptional healthcare to local people. It was wonderful to see colleagues, young and old, meeting up to give Frenchay the send-off it deserved. We look forward to the future in our fantastic new hospital, but with the same familiar faces providing excellent care.'
Kim Wellington of Neurosciences said: 'For my husband and I the event was very nostalgic and a trip down memory lane, quite emotional in fact, as Frenchay hospital has been a huge part of our lives. I have worked at Frenchay for 39 years in various wards and met my husband whilst he worked as a porter – we've been married for 36 years!'