CHAPpuccino cancer appeal
CHAPpuccino cancer appeal
Tuesday, 28 August 2012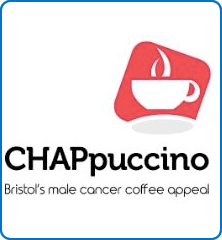 Coffee shops across Bristol are selling special CHAPpuccino coffees to support men's cancer research at Southmead Hospital.
The CHAPpuccino appeal raises money for the Bristol Urological Institute at Southmead Hospital.
CHAPpuccinos are being served in coffee shops, hotels and leisure clubs across Bristol and for every one sold at the venues, a donation will be made to the cancer fund at the charity.
Cafes and restaurants at Southmead and Frenchay hospitals are also selling the drinks, along with a number of independent coffee shops across Bristol.
The appeal, launched by Bristol's Shine Together charity, runs throughout September.
Head of Fundraising at Shine Together Trevor Reid said: "CHAPpuccino is a really simple idea. Just by having a coffee at one of the participating venues across Bristol you will be helping support men with cancer in Bristol.
"Every year 10,000 men die as a result of Prostate Cancer.  Simply by buying a coffee, you can help cut this number and support 'chaps' in Bristol this September."
Radisson Blu Hotel Bristol are making a donation for every coffee they sell throughout September.
Karen Tew, Director of Sales at the Radisson Blu Hotel Bristol said: "We are really excited to be participating in this unique idea to raise awareness about prostate cancer in the city.
"We hope that our regular coffee drinkers, and potential new friends, will help us in raising as much money and awareness as possible and hope that we are able to help this fantastic cause."
Also supporting the CHAPpuccino appeal are Bristol's two Marriott Hotels.
Spokesperson Anna O'Shea said: "The Bristol Marriott Royal & Bristol Marriott City Centre Hotels are delighted to be taking part in such a vital appeal to raise funds and make a difference for the hospital & patients.
"We know by being a part of such a fantastic initiative patients and staff will benefit in the future."
Find out where you can buy a CHAPpuccino throughout September.