Congratulations to all our staff award winners!
Congratulations to all our staff award winners!
Friday, 25 May 2018
We are pleased to announce the quarterly winners from May, North Bristol Trust Heroes Award.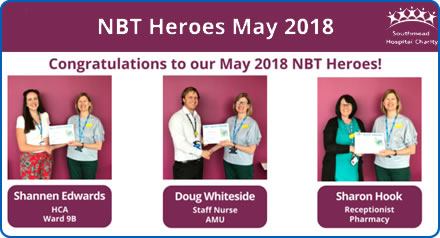 Nominated by colleagues, these individuals have taken the time, and made an extra special effort, to achieve something extraordinary.
Heroes are ordinary staff members who find the strength to keep going no matter what challenges are in their way. They endeavour to make a situation the best it can be whether that's in their team, across the wider hospital, for a colleague or a patient.
These awards are not about the flashy breakthroughs or novel treatments, (although we do those) these awards are to say thank you to people who make NBT a great place to work, and go the extra mile for our hospital every day.

Well done to all winners below, who were invited to afternoon tea with NBT Chief Executive, Andrea Young.
Shannen Edwards
Lindsey Harvey
Mandy Dalton & Sandra Broomfield
Michelle Francis
Nicola Kilburn
Radiology Team
Hannah Ferris
Radiology Secretaries,
Debra Ford,
Sharon Hook,
Douglas Whiteside
Lisa Ford
Maureen Wynn
Charlotte Considine
Claudia McNally
Jimmy Reeves
Barbara Pease
If you would like to join the team please check out current vacancies.