Crutches amnesty launched by Southmead Hospital Bristol's emergency department
Crutches amnesty launched by Southmead Hospital Bristol's emergency department
Tuesday, 19 August 2014
Former patients are being encouraged to return crutches they no longer need as part of an amnesty at Southmead Hospital Bristol.
The emergency department hands out 25 pairs of crutches to patients on average each day.
But only a few pairs are returned to the unit each day.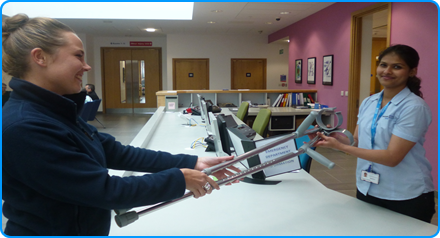 The North Bristol NHS Trust emergency department, which transferred from Frenchay Hospital in May, is encouraging people to seek out any crutches they may have at home and return them to A&E.
Emergency department matron Juliette Hughes said: "People may have forgotten about their crutches and they could be in the garage or the back of a wardrobe, or it may be that they haven't returned them because they are broken. Even if they are broken we encourage people to bring them back anyway because we can overhaul them so they are as good as new and that costs less than buying new ones.
"Please do check at home to see if you have got any crutches you might have forgotten about and bring them into us at reception."
If you have crutches at home please return them to staff at the reception of the emergency department inside the Brunel building, Southmead Hospital Bristol.