Doctors and nurses get on board NHS winter campaign
Doctors and nurses get on board NHS winter campaign
Tuesday, 19 December 2017
Doctors and nurses at North Bristol NHS Trust (NBT) are getting on board an NHS campaign to help the public stay healthy and reduce pressures on busy NHS services this winter.
The 'Staywell' bus, which will operate on routes throughout the Bristol area, features a wide range of advice from NBT healthcare staff to help people understand how pharmacists can help them stay well, how to help loved ones get home from hospital quicker and the alternatives to the A&E that are available out of hours.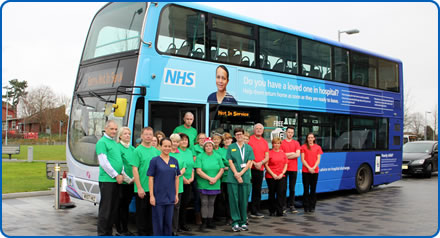 Last winter (November – February) more than 20% of patients who attended the Emergency department at Southmead Hospital with minor health concerns could have seen a pharmacist, GP or other out of hours service for the advice they received.
Staff in the Trust's Emergency department are well prepared for dealing with a range of emergency illnesses and injuries but some people turn up with ailments that could be managed at home with just a little support from pharmacists or the 111 service.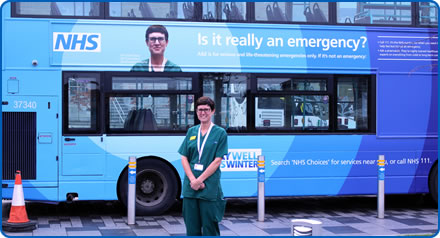 One of the 'faces' of the bus campaign, Lead Emergency Department Consultant at Southmead Hospital, Leilah Dare said: "We know that sometimes people are unsure of where to go for help or advice when they are unwell and we understand that. That's why we have NHS choices and NHS 111 to help guide you through the options.
"There are a lot of conditions and illnesses that can be managed away from the hospital with some advice with the help of these services and your local pharmacist.
"We are here to give you the best care when you need us in an emergency, but if you could be seen elsewhere it may mean you get better quicker as well as allowing us to focus on the people who really need our help.
"If you do attend the Emergency Department with a non-emergency healthcare problem you may be redirected to a more appropriate service elsewhere."
Southmead Hospital Ward Manager Emerline Albano also features on the bus with advice for relatives and carers about how they may be able to get their loved ones home from hospital sooner and reduce the chances of them suffering from deconditioning as a result of staying in hospital longer than they need to.
This includes asking some key questions to help you or your loved one understand when they might be discharged from hospital and what needs to happen before they can leave and making preparations to support them at home after they return from hospital.
The bus also features Bristol community pharmacist Ade Williams with guidance on simple steps that older adults and more vulnerable people – such as those with long-term health conditions - can take to avoid winter illness. These include taking up the flu jab when it is offered, keeping homes warm and picking up repeat prescriptions well in advance of holiday closures.
Local GP and clinical leader for urgent care at the Bristol, North Somerset and South Gloucestershire CCGs, Dr Peter Goyder added: "We know that this winter will be challenging but we are working together across the NHS to make sure that people get the care they need at the right time.
"People can help us do this by using the right service for their needs and taking steps to stay well over the winter months, as set out on the 'Staywell' bus.
"We're also asking the public to support our busy hospitals by helping loved ones return home as soon as they are medically fit for discharge. Prompt discharge is always better for patients and importantly, frees up much-needed beds for others."
For more information about local services this winter, visit the NHS Choices website or call NHS 111.