Elgar House showcasing its enablement work with patients
Elgar House showcasing its enablement work with patients
Thursday, 24 August 2017
An open day is being held to showcase the work staff at Southmead Hospital have been doing to support the enablement of patients in Elgar House.
Most of the patients in Elgar are medically fit to leave hospital but are waiting for arrangements to be made around their ongoing care. The team is supporting this group of patients to be more active as they prepare to leave hospital.
Patients are being supported to get out of bed, get dressed and go to the dining room for their meals, where appropriate.
Staff have undergone training using the empathy suit – which enables people to experience some of the physical symptoms that can be associated with ageing such as deteriorating eyesight and back pain – to help them better understand the needs of the patient group.
They have also been engaging patients in meaningful activities and some of these will be on show throughout today (Thursday, August 24) as part of the open day.
There will also be Tai Chi, Mindful Meditation, a visit from the volunteer Therapy Dogs, music from a violinist and the Move Maker Choir and ballroom dancing.
Matron Bev Davies: "As nurses sometimes we can be too kind and do things for our patients, but increasingly we know that it is important to encourage people to get out of bed, get dressed and move around more so that they can hopefully get back to being as active as they were before they came into hospital.
"We have nurses and therapists working alongside each other to help encourage patients to get up and moving as we know this is the best thing for them. This is already making a great improvement to the experience of our patients in Elgar."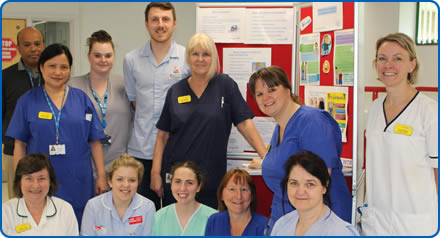 Senior Staff Nurse Becky Fowler said: "We are supporting people not by doing things for them but by working in partnership with them and encouraging and empowering them to be as independent as possible.
"This is about encouraging people to wear their own clothes and walk to the toilet and the dining room. We know this is better for patients and may also help them to start their further recovery out of hospital sooner."
The Open Day will run from 10am - 4pm on Thursday, August 24. There will be stalls and information about services, training and staff vacancies as well as the activities for patients.