Elgar House transforms into Winter Wonderland
Elgar House transforms into Winter Wonderland
Wednesday, 20 December 2017
Hospital staff arranged a day of festive fun for patients on the Elgar 1 ward at Elgar House yesterday.
Elgar House, based on the Southmead Hospital site, supports patients to make the transition from hospital to home or care centres. Children from Southmead Saplings Nursery visited the ward and sang Christmas songs and nursery rhymes, carols were sung, and patients participated in winter based activities.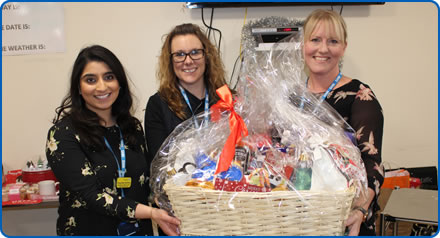 Staff were also recognised for going above and beyond in delivering patient care as part of a project run by Fresh Arts on the theme of kindness. The Fresh Arts team, supported by Southmead Hospital Charity, has been encouraging staff, patients and visitors to share stories of acts of kindness, and to spread kindess throughout the hospital. During the Winter Wonderland event, the Emergency Department's Domestic Violence team received a hamper donated by staff on Elgar 1. The hamper contained items for those affected by domestic violence. Healthcare Assistants Georgia Northcott and Mollie Lomax received flowers for going the extra mile to deliver patient care and spread kindness throughout the ward.
Matron Bev Davies said: "While we are working extremely hard to help our patients get better and home sooner, we know that not everyone will be able to spend Christmas at home with their loved ones.
"It's important to offer activities such as these to help boost morale, improve wellbeing and aid enablement. We'd like to thank the Southmead Saplings Nursery for coming over and bringing smiles to everyone's faces, and to the musicians who played during our carol service."