Equipment worth £15,000 presented to Emergency Department
Equipment worth £15,000 presented to Emergency Department
Tuesday, 5 November 2013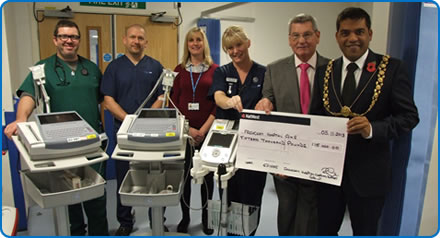 The Frenchay Hospital Cardiac Support Group has generously donated medical equipment to the Emergency Department.  
The local charity based in Fishponds works closely with Frenchay Hospital and has purchased equipment for departments around North Bristol NHS Trust for many years.
Since March 2013, they have provided funding for two ECG machines and one bladder scanner to the Emergency Department.  These donations total £15,000. 
Juliette Hughes, ED Matron, said: "The equipment has ensured that patients attending the Emergency Department wait less time for vital cardiac and bladder tests, aiding a swift diagnosis and subsequent treatment.  We are very grateful to the Frenchay Cardiac Support Group."
Pictured left to right are: Dr Adam Brown, Matt Crabtree, Amy Keegan and Juliette Hughes from Frenchay Hospital's Emergency Department, Rae Care (Chairman of the Frenchay Hospital Cardiac Support Group) and Faruk Choudhury (the Lord Mayor of Bristol)