Exceptional Healthcare Awards – Making a Difference
Exceptional Healthcare Awards – Making a Difference
Tuesday, 31 October 2017
The countdown has begun to this year's Exceptional Healthcare Awards.
The annual awards ceremony, supported by Southmead Hospital Charity, celebrates the efforts and achievements of some of our amazing members of staff and volunteers.
In the run-up to the awards ceremony on November 10, we will be showcasing the shortlisted nominees in every category.
Today we are starting with the Making a Difference category, which recognises teams or individuals who have consistently provided excellent customer care to patients, visitors, members of staff or other users.
The nominees are:
Tanya Matthews, Neurology Nurse
Tanya has led the Neurology wards through major improvements in acute stroke care, as well as providing training to student nurses. Tanya was nominated for her gentle, modest and thoughtful approach, putting the needs of patients first.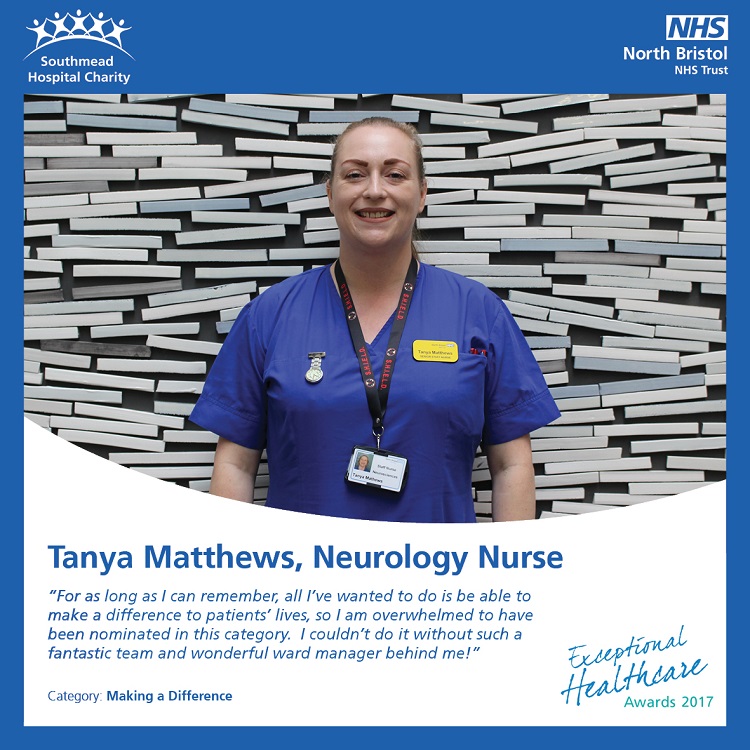 Becki Toghill and the Medical Day Care Chemo Suite
The nomination for the team in the chemotherapy suite highlighted the massive difference they have made to not only the patients' lives but to the lives of other members of the team, making staff feel supported, valued and appreciated.
Jo Watson, Nurse Specialist
Jo's role involves meeting patients to reassure them and their families prior to often major cancer surgery. Jo's nomination highlighted her gifted style when assessing patients' emotional needs and explaining ongoing treatment and the patient journey.