Exceptional Healthcare Awards 2018: Best Improvement in Patient Experience
Exceptional Healthcare Awards 2018: Best Improvement in Patient Experience
Wednesday, 24 October 2018
The countdown to our annual staff awards has begun and in the lead-up to our Exceptional Healthcare Awards on November 9 we will be showcasing the shortlisted nominees in each of the categories.
Today we are introducing the members of North Bristol NHS Trust staff who made it to the final four in the Best Improvement in Patient Experience category, which recognises teams or individuals who have made changes to the working environment and/or practices that have improved the patient experience.
The awards are supported by Southmead Hospital Charity.
The nominees are:
Diane Bird, Staff Nurse in the Neorosciences and Musculoskeletal division
Diane is a passionate, caring nurse renowned for her attention to detail when delivering person-centred care. Diane conducted a study on sleep as she identified that many of the patients at The Rosa Burden Centre reported sleep difficulties.  Diane produced an inpatient self-help booklet to educate patients on the causes of poor sleep and a guide on how to improve their sleep hygiene. Patients living with functional neurological disorder, chronic fatigue syndrome and fibromyalgia have been some of the patients who have benefited from the booklet and the tools it incorporates. 
Diane is also link nurse for diabetes and point of care and due to her attention to detail The Rosa Burden has high compliance score in these areas.
Enhanced Recovery Team
The Enhanced Recovery Team is dedicated to improving quality and standards of care for the benefit of patient experience. This is focused on pre and post operative education, preparation and information.
Following a review of patient surveys, it was identified that patients were required to attend multiple appointments with a wide variety of individuals pre operatively. The Enhanced Recovery team introduced an 'ERAS School', which would bring patients together ahead of their operations to share information about surgery, recovery and optimisation. Other services have already approached the team to learn more about this model, including other provider hospitals, and the ERP team will be rolling this model out to the vascular service shortly.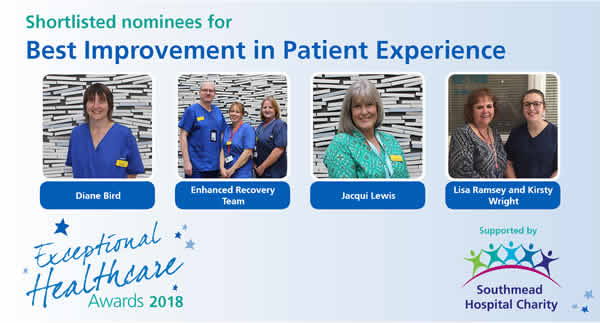 Jacqui Lewis, Senior Midwife and Bereavement Lead
Previously there were limitations in the bereavement services we offered to women and their families at such an emotional and vulnerable time in their lives. However, in the past year, Jacqui has supported 64 sets of bereaved parents and given much thought to the way services are delivered and made changes where required.  She has forged relationships with the charities that support us and facilitated staff training to enhance the bereavement care given throughout our service. Jacqui's work was mentioned and commended in a recent CQC visit. 
Lisa Ramsey and Kirsty Wright, Supervisory Ward Sister and Community Nurse
As technology increases, smaller and more medically fragile infants are being treated and kept alive in highly technical NICU environments. The stress of having a sick or pre-term baby takes a great toll on the mental health of the parents.
Lisa and Kirsty have  created a weekly craft club, where the parents meet and, whilst doing simple crafts, they have a safe space away from the busy and noisy intensive care rooms to discuss their feelings, worries and the condition of their baby.
Lisa and Kirsty are liaising with other professionals to expand the club to include a psychotherapist and wellbeing midwife who will provide more mental health support. It has been so successful that mothers have continued to be involved even when their baby has been discharged.