Exceptional Healthcare Awards 2018: Inspirational Leader
Exceptional Healthcare Awards 2018: Inspirational Leader
Friday, 26 October 2018
In the run-up to our Exceptional Healthcare Awards on November 9 we are sharing details of the people and teams who have been shortlisted in each of the categories.
The staff awards are supported by Southmead Hospital Charity. 
Today we are showcasing our staff who have been shortlisted in the Inspirational Leader category. This recognises an inspirational and resilient leader whose approach demonstrates a positive and sustained impact on those around them.
Here are details of the nominations:
Anne Pullyblank, Consultant Colorectal Surgeon
Anne's visionary approach and endless support and motivation to staff allows her to implement change that provides service improvements for patients as well as support for the staff, making all feel heard and valued throughout the process. This was seen in her direct to test pathway and the implementation of the surgical admissions unit (SAU).
Anne invests hours of her own time supporting junior doctors and investing in the next generation of inspirational surgeons. In addition, she is a champion of the value of non-clinical staff from porters, HCAs to management.
John Loy, Library Manager
John has been in post for almost three years and has transformed how we use our library and its services in North Bristol NHS Trust. He has introduced the Clinical Librarians, a very dynamic and frontline orientated service and the feedback of this service has been brilliant.
He has also been creative in incorporating and celebrating artwork in the library, mutually benefiting the library users and artists. John definitely thinks outside the box as a leader and often puts himself up for challenges, always supporting the hospital charity. He is a great role model and very inspiring with his ideas.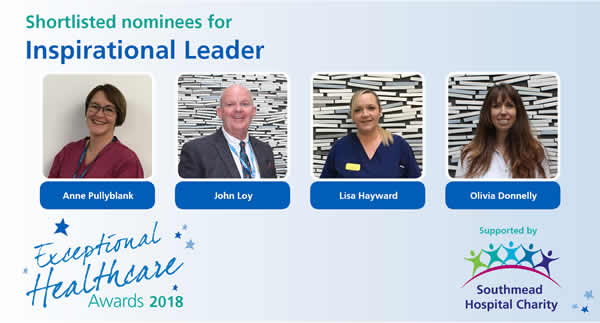 Lisa Hayward, Ward Sister
Lisa is a champion of change management and her door is always open for staff who may find change difficult. The sound advice and guidance she offers has developed both the registered and non-registered staff to learn and do their best at all times. Lisa Hayward has made a large change on ward 34B through her ability to support and nurture her team and to inspire them to have the confidence to embrace change and make it work well.  All staff on the ward are encouraged to learn and expand their knowledge and they are also self-motivated and take pride in their work and their ability.
Olivia Donnelly, Consultant Clinical Psychologist
Olivia has a passion for innovation and improvement; she has been instrumental in setting up a wellbeing service for staff, including piloting the service, gaining funding, delivering courses and jointly leading a team of 12 members.
Her passion, courage and commitment to the wellbeing of others means that 145 NBT staff have accessed this support so far  and 100% would recommend to others.
Besides her clinical work and supervising a number of clinical teams, Olivia has jointly produced national clinical guidelines, introduced new patient groups - mindfulness course and drop-in - trained numerous healthcare professionals, conducted novel research and gained further funding to expand psychology support trust-wide.